Not set in stone: Why we need more honesty and fewer statues
Wednesday 30 March 16:00 until 17:30
University of Sussex Campus : Attenborough Centre for the Creative Arts
Speaker: Gary Younge
Part of the series: Sussex Festival of Ideas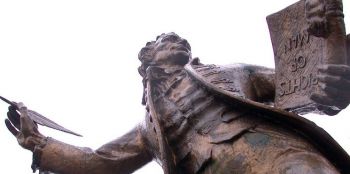 Join the renowned journalist and social commentator, professor Gary Younge, to debate one of the most pressing cultural questions of our time: how we remember and who. The ideology of statues and monuments gained sharp visibility in the UK following the toppling of the figure of Edward Colston in Bristol in 2020, as part of Black Lives Matter protests. Social justice movements have long campaigned for new or different public monuments, from the first woman in Parliament Square to animals made to serve in war, while artists have diversified style and concept, including with experiments on Trafalgar Square's rotating 'fourth plinth'. How and in what ways should we commemorate, and are we missing the point in seeking to erect new statues?
Respondent: Dr Victoria Walden, from The Future of Holocaust Memory project.
Chair: Dr Naaz Rashid
Booking is essential using the Attenborough Centre website
This event is supported by the School of Media, Arts and Humanities at the University of Sussex. It is free of charge and all are welcome.
Drinks and nibbles will be available in the ACCA café/bar afterwards.
**Please note that one of our speakers is immunodeficient and has requested that attendees wear masks.**
About our speakers:
Gary Younge
Gary Younge is an award-winning author, broadcaster and a professor of sociology at the University of Manchester in England. Formerly a columnist at The Guardian he is an editorial board member of the Nation magazine and the Alfred Knobler Fellow for Type Media. He has written five books including Another Day in the Death of America and Who Are We: How Identity Politics Took Over the World. He has also written for The New York Review of Books. Granta, GQ, The Financial Times and The New Statesman and made several radio and television documentaries on subjects ranging from gay marriage to Brexit.
Victoria Walden
Dr Victoria Grace Walden is a Senior Lecturer in Media. Her research focuses on digital interventions in genocide memory, particularly in museum and memory site contexts. She has worked with the International Holocaust Remembrance Alliance and served as an academic advisor for the Imperial War Museums and the UN/ UNESCO on related projects. She currently leads the 'Digital Holocaust Memory: Hyperconnective Museums and Archives of the Future' project.
Naaz Rashid
Dr Naaz Rashid is a Senior Lecturer in Media and Cultural Studies in the School of Media, Arts and Humanities at the University of Sussex. She is Co-Director of the Sussex Centre for Cultural Studies and is currently researching the dynamics of London's pop-up restaurant scene in a British Academy-funded project 'Eating the Other'.
---
Posted on behalf of: School of Media, Arts & Humanities
Last updated: Wednesday, 9 March 2022