News and events
Sussex and strategic partners nurture the next generation of global research talent
Posted on behalf of: International Partnerships Office
Last updated: Wednesday, 2 August 2017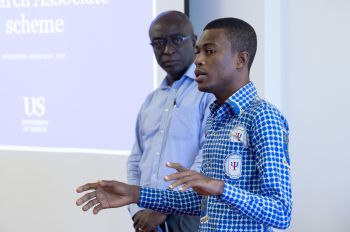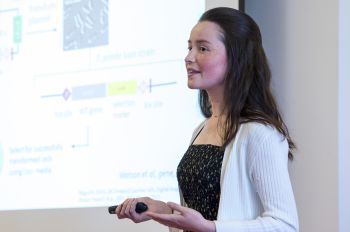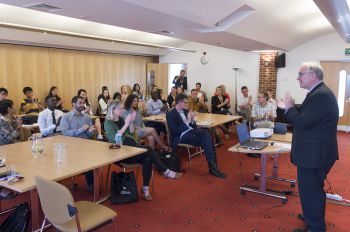 Visiting students from leading global universities presented undergraduate research at an event at Sussex last week.
The students are participating in the International Junior Research Associate (IJRA) scheme, which provides beneficial research experience in preparation for future PhD study. Students from selected international partners are supervised by Sussex faculty for an eight-week summer project.
This year, 18 students are participating from seven countries, with projects hosted in eight schools at Sussex. Partners include Georgetown University, Lund University, Monash University, the Chinese University of Hong Kong, the Hong Kong University of Science and Technology, the University of California Santa Cruz, the University of Ghana, Tomsk State University and Universiti Teknologi MARA (UiTM).
Where possible, placements are identified that involve students in collaborative research taking place with the partner University.
Professor Ed Hughes, Head of the Department of Music, noted: "Thanks to an IJRA student from University of California Santa Cruz, we are working this summer on the John Altman Jazz Archive, a unique collection of live performances of jazz on screen from television and film throughout the 20th century. This is building up Sussex and Santa Cruz's knowledge and resources in this exciting field, and also strengthening international contacts between the two music departments."
A reception was arranged for students to share their research with an academic and professional audience. Supervisors and students delivered joint presentations to introduce the projects and wider research contexts.
Students spoke on a highly diverse range of projects, which included the interpretation of archived jazz performances; what local sedimentary deposits can tell us about climate change; creating teacher incentives in Ghana; and the role of the Smc5/6 complex in genome stability.
The event was hosted by the Pro-Vice-Chancellor (Research), Professor Michael Davies, who commented on the high quality of the presentations: "Students are seizing this exceptional opportunity to engage with distinguished researchers and develop international networks. I wish them all the best with their future research careers."
The scheme is managed jointly by International Partnerships and the Doctoral School, with support from the International Partnership Development Fund. For more information, contact International Partnerships Officer Georgie Chesman.
Further information: http://www.sussex.ac.uk/research/undergraduate/international-jra