News and events
Free event sees research into hearing loss shared straight from the lab
By: Jessica Gowers
Last updated: Monday, 24 June 2019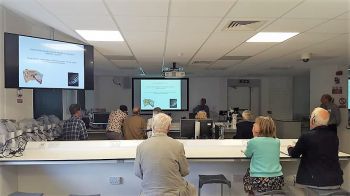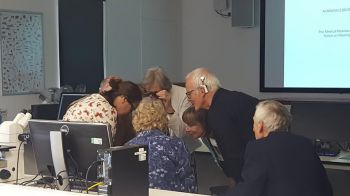 An Action on Hearing Loss event saw Sussex research shared with members of the public who have close personal connections to hearing loss, deafness or tinnitus.
The 'Research in Action' event, organised by Action on Hearing Loss and hosted at the University of Sussex, was attended by a variety of the charity's supporters on 17 June to promote the vital importance of gifts in wills, which account for over two-thirds of the charity's voluntary income.
Laura Kennedy, Legacy and in Memory Manager at Action on Hearing Loss, said: "It was a privilege to be able to showcase the pioneering research that Action on Hearing Loss is funding at the University of Sussex and our supporters were delighted to have an opportunity to hear about this first-hand and get up close with the research.
"We were overwhelmed with the positive feedback from the day and thank everyone at the University for their support with this event."
Prof Guy Richardson and Prof Corné Kros study the molecular and cellular basis of hearing and deafness and their research is funded by the charity.
At the event attendees had the opportunity to visit the lab and directly engage with their research by looking at the inner ear hair cells responsible for hearing under a microscope.
They also saw some of the equipment used to study these cells and got to put their questions to the experts.
Prof Guy Richardson said: "Action on Hearing Loss have helped fund our research to understand the causes of deafness for over 25 years; they are central to worldwide efforts to prevent and cure deafness."
Prof Corné Kros said: "It is incredibly important and rewarding to share our research with the public: they are so engaged and tell us what really matters for them and help us decide what we should focus on."
The researchers spoke about how they are trying to protect inner ear hair cells from damage by a class of antibiotics called aminoglycosides.
These antibiotics are used to treat a variety of conditions including complicated urinary tract infections, meningitis and tuberculosis, and can cause severe hearing loss as a side effect.
As part of this work, Profs Richardson and Kros use zebrafish larvae to determine compounds to protect against the damage these antibiotics cause. The attendees had the opportunity to take a look at the zebrafish that are key to this research.
For more information, visit the Kros Lab and Richardson Lab websites.