News and events
Soapbox Science sees Brighton beachgoers enjoy science in the sunshine
By: Jessica Gowers
Last updated: Friday, 7 June 2019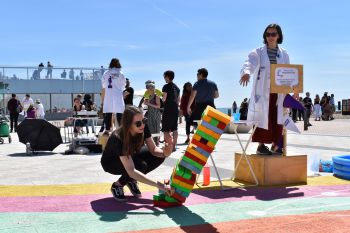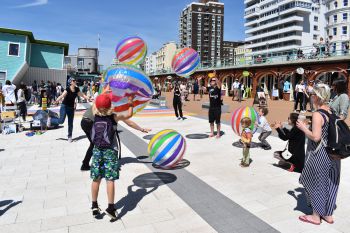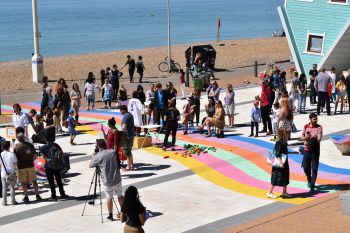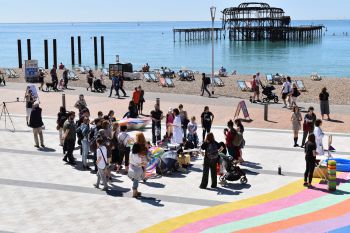 Over 2,500 beachgoers took the time to learn about all things science on Saturday 1 June.
Ten female scientists took to their soapboxes, props in hand, to deliver inspiring talks on areas of their research at the third Soapbox Science event in Brighton.
The academics from the Universities of Sussex, Brighton, Southampton, Birbeck and King's College London, gave talks and sparked discussions on a wide variety of topics, from seabirds to quantum physics.
During the three-hour event, which took place next to the i360, attendees also learnt about the drug discovery process, the Andes, the evolution of the brain, dark matter and lots more.
Dori Grijseels, a Neuroscientist and speaker at the event said: "Standing on the soapbox was an exhilarating experience, it was brilliant to talk to passers-by about my research and I got some really interesting questions about the brain that I hadn't considered before."
The event is organised by a team based at the University of Sussex. Leanne Harris, a Biochemistry Research Fellow at the School of Life Sciences, is part of this team. She said: "This year was our sunniest and busiest Soapbox Science yet. Our speakers had enthusiastic crowds all the time and it was brilliant to see their original ways of explaining their research – including puppets, Jenga and giant beach balls! We will certainly be back as part of Fringe for 2020!"
Soapbox Science is a public outreach platform launched in London in 2011 and is inspired by the concept of Speaker's Corner in Hyde Park. It has now spread to many cities across the UK and other parts of the world.
It aims to celebrate women in STEMM (Science, Technology, Engineering, Mathematics and Medicine) and challenge the image of a stereotypical STEMM researcher. Soapbox Science ensures that everyone has the opportunity to learn from, question, interact with and be inspired by leading scientists from the region.
This year the event was part of Brighton Fringe.
For more information about Soapbox Science 2019 Brighton, visit the website.