News and events
Sussex Neuroscientist awarded prestigious research prize
By: Jessica Gowers
Last updated: Tuesday, 13 November 2018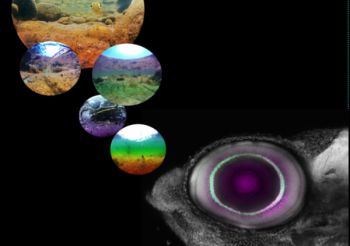 A Professor of Neuroscience has been awarded a prestigious prize to further his work into animal vision.
Prof Tom Baden was presented with the Lister Institute Research Fellow Prize at a special event on 6 November 2018.
He received £250,000, which he will use to support his research over the next five years.
Prof Baden gave a lecture 'The Evolution of Function in the Nervous System: What can we learn from the vertebrate retina?' to explain his work, findings and future plans at the event.
He said: "I am deeply honored and delighted be to awarded this prestigious recognition, which directly reflects on the enthusiasm and scientific distinction of all lab members and collaborators"
Prof Baden's research aims to better understand how different visual systems have evolved to optimally process their natural surroundings. In order to do this he studies how the retinas of different animals, that live in different environments, vary in terms of structure and function.
His research provides a greater understanding of how vision and neuronal networks work and how this differs across animal species.
Prof Sarah Guthrie, Head of School of Life Sciences, said: "Since joining the School of Life Sciences, Tom has gone from strength to strength. He has established a large, successful research group, made numerous discoveries and has received a number of awards and prizes.
"Tom's work epitomises something very Sussex; his research crosses the subject boundaries, particularly neuroscience and ecology, and is interdisciplinary by nature. This is a well-deserved award and Tom should be very proud. Congratulations!"
Prof Baden joined the University of Sussex in 2016 as a Senior Lecturer in Neuroscience and in 2018 was promoted to Professor. In the past few years he has received multiple prestigious prizes, including the Eppendorf Prize, the Sir Philipp Leverhulme Prize and now the Lister Institute Research Fellow Prize.
The Lister Institute Research Fellow Prizes are awarded to promising researchers in the early years of running their groups, for whom receipt of the prize would make a significant difference to their work.
It is a competitive process with up to six awards per year, for which there are around 100 applications.
Professor Sir Alex Markham, Chair of the Governing Body at the Lister Institute, presented Prof Baden with the award.
He said: "The Lister Institute Research Fellow Prize demonstrates that there is excellent biomedical research taking place at Sussex by talented young researchers, such as Tom. I strongly encourage more young scientists at Sussex to apply."
For more information about Prof Baden's research, visit his lab website and to find out more about the Research Fellow Prize, visit the Lister Institute website.