News items for Sussex Energy Group
---
The Sustainability Educator Toolkit
Posted on behalf of: The Sussex Humanities Lab (SHL)
Last updated: Tuesday, 20 September 2022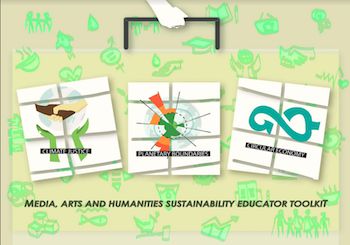 Over the summer, the Sussex Humanities Lab, Experimental Ecologies Cluster have been working on a Sustainability Educator Toolkit - a living document designed to support colleagues to embed themes, concepts and practices related to sustainability - broadly construed - into our teaching.

Some Media, Arts and Humanities modules teach sustainability topics directly - such as Social Justice, Race and Ethnicity or Language and Power. Other modules may seem unrelated: What have Video Games, Computer Music or Film Studies got to do with sustainability? What do we even mean by sustainability? We hope that this toolkit will help answer these questions and more.

The toolkit is created through research and suggestions from colleagues. It makes no attempt to be comprehensive or polished. Think of it as a grab-bag of inspirations, provocations, and helpful signposts.

The first version includes an introduction to six key topics that surfaced through staff focus groups, all with an environmental focus, with pointers to further reading and 'activity seeds' to inspire integration into the curriculum. Currently there are five case studies from colleagues in the Schools of Media, Arts and Humanities, and Education and Social Work sharing their approaches to introducing core topics and practices. We recognise that some subject groups are underrepresented. We welcome your contributions and can incorporate them swiftly.

We hope that you might find a moment to dip into this whilst preparing your lecture slides and tutorial activities and take even one idea into class this semester.

View the toolkit at: bit.ly/EmbedSustainability

Offer comment to a Gdoc version at: bit.ly/MAHSustainabilityEducator

If you have any questions, or suggestions, or would like to contribute an Activity Seed or Case Study to inspire colleagues in your subject group, do not hesitate to get in touch by emailing one of us alicee@sussex.ac.uk, j.c.walton@sussex.ac.uk, a.e.oji@sussex.ac.uk or simply leaving comments in the Google doc.