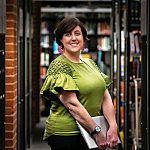 Mrs
Sarah Ison
Biography
I worked at the University of Brighton for 16 years, beginning my career in libraries as a shelver, and Resource Assistant, Senior Resource Assistant and following completion of the MA to qualify as an Information Professional I then worked as an Assistant Information Adviser, and then Senior Information Adviser. My most recent role was at St Peters House Library managing the Librarian team supporting the Arts, Media and Humanities courses.
Role
I am the Librarian supporting all the Online Distance Learning Courses at the University of Sussex. I ensure that access to all the online readings is available via the online reading lists, and liaise closely with the tutors to support students with research skills, academic study skills, reference management and finding and using online resources. Please get in touch for help.
Community and Business
I am a founder and part of the team who run a free weekly 'International Cafe' for international students at Holland Road Baptist Church, every Wednesday 7.30-9.30.