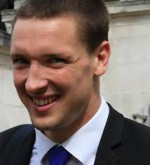 Dr
Jack Simson Caird
Biography
My research focuses on the role of constitutional law within the legislative process. In 2014, I completed my doctoral thesis at Queen Mary University of London titled 'Identifying the Value of Parliamentary Constitutional Interpretation'. The thesis examines how parliamentarians in the UK used the interpretation of constitutional norms to scrutinise Government Bills in the 2010-2012 session. My central argument is that constitutional interpretation enables parliamentarians to both enhance the level of justification within the law-making process, and to contribute to development of the normative content of the constitution. Both of these values serve to give effect to a distinctly political form of constitutionalism.
My other research has focused on the role of the House of Lords Select Committee on the Constitution, a short analysis piece in Public Law (2012) and a co-authored chapter, with Professor Andrew Le Sueur (legal adviser to the Committee 2006-2009) in Parliament and the Law (2013 Hart).
I was the lead researcher for a Constitution Unit (UCL) report 'The Constitutional Standards of the House of Lords Select Committee on the Constitution' (2015), co-authored with Professor Dawn Oliver and Professor Robert Hazell. I co-authored a chapter with Professor Dawn Oliver titled 'Parliament's Constitutional Standards' published in Parliament: Legislation and Accountability (2016 Hart).
I have written the following blog posts:
http://ukconstitutionallaw.org/2015/08/31/jack-simson-caird-constitutional-standards-constitutional-change-and-evel/
http://ukconstitutionallaw.org/2014/01/08/jack-alaric-simson-caird-a-code-of-constitutional-standards/
http://blogs.lse.ac.uk/lsereviewofbooks/2014/01/22/book-review-democratic-decline-and-democratic-renewal/
http://ukconstitutionallaw.org/2013/06/14/jack-simson-caird-a-proposal-for-a-code-of-legislative-standards/
http://ukconstitutionallaw.org/2012/06/25/jack-simson-caird-the-justice-and-security-bill-and-the-house-of-lords-constitution-committee/
http://ukconstitutionallaw.org/2012/02/01/jack-simson-caird-a-report-on-the-united-kingdom-constitution-law-group-seminar-from-constitutional-scrutiny-to-constitutional-review-ten-years-of-the-house-of-lords-select-committee-on-th/
http://ukconstitutionallaw.org/2011/10/19/jack-simson-caird-parliamentary-constitutional-review-the-case-of-the-health-and-social-care-reform-bill/
Role
Lecturer in Public Law - from 01/09/2015 to 28/02/2017 I am on leave and working as a Senior Library Clerk in the Parliament and Constitution Centre in the House of Commons Library.