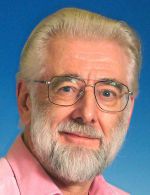 Prof
David Booth
Biography
David A. Booth's research career in British Psychology began at the University of Sussex (1966-72) and he returned to an honorary research position here in 2013. Initially he spent 3 years developing a bachelors in chemistry with biochemistry into a PhD in molecular neuroscience.
His first psychological experiments (1956) were on his own performance of perception and memory, following the Introduction to Experimental Psychology by C.W. Valentine, Professor of Educational Psychology at the University of Birmingham. After stumbling on Hick's Law in data from one person in his Finals Practical Exam in Psychology at Birkbeck, London (1962), he started to explore an academic career in basic and applied aspects of the discipline. It began with a postdoc on Neal E. Miller's NIH grant at Yale and Rockefeller Universities (1964-6). He came back to England as planned, to work on grants from SERC, MRC and MHRF in Stuart Sutherland's new group at Sussex. In 1972, it was time to find a 'proper job' in teaching, research and academic administration; David Booth accepted a post at the University of Birmingham in the Psychology department, then recently formed in the Biology Group (now the College of Life and Environmental Sciences), where he stayed for over 40 years. His undergraduate teaching there included biological and social motivation, behavioural neurophysiology, artificial intelligence, foundations of psychology, group practicals on guided autosuggeston and Final Year projects on psychological effects of caffeine, alcohol and nutrients. He served as lead tutor to PhD degrees and BSc years, elected member and chair of academic and resource departmental committees, executive chair of departmental input to building conversion from chemistry to psychology, and representative at Faculty and Senate.
In addition to supervision in doctoral and masters research degrees, international collaborations in research and teaching, and research trainees, have come from colleagues at UCLA, UICC, Columbia & Rockefeller Universities in the USA, McGill in Canada, UAEM in Mexico, La Trobe in Australia, Odense University Denmark, the Open University of the Netherlands, Collège de France in Paris and CEGS in Dijon, France, and the Universities of Göttingen and Giessen in Germany.
Role
Research in biosocial cognitive-behavioural psychology
Community and Business
David Booth gained British Psychology's first Collaborative Award in Science and Engineering for a PhD student part-time in industry. He has held numerous published and unpublished consultancies in consumer science with companies in the UK, continental Europe and the USA, mostly on the formulation and labelling of foods & drinks and personal products.
He has written a variety of articles from a scholarly base for the general public locally and on the internet, as well as briefing journalists in areas of his research expertise.