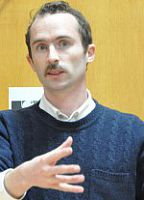 Dr
Cian O'Donovan
Biography
I am a Research Fellow in Science and Technology Studies at SPRU. My core interest is how innovation is directed towards, and often away from, social progress. My research interests include automation, work and democracy; the role of policy and other institutions in innovation and social change; and epistemic cultures, practises and research methods.

Currently I am investigating how technologies alter the agencies and capabilities of their users. Alongside colleagues Adrian Smith and Ed Steinmueller I am examining automation and digital fabrication technologies by mapping the happiness of makers, coders and craftspeople with respect to the tools they use, such as 3D printers, digital CNC, laser cutters and CAD/CAM. This work is part of Responsible Innovation and Happiness: A New Approach to the Effects of ICTs with colleagues at SPRU and TIK Centre (Centre for Technology, Innovation and Culture) at the University of Oslo. Most recently I was Network Coordinator of .
I am also Research Coordinator of the The ESRC Nexus Network where I am carrying out research on the inter- and trans-disciplinary capabilities and capacities generated by the Network over its four year lifespan.
In addition to these roles, I am part of the Sussex Sustainability Research Programme, where I am leading research into methods and methodology for sustainability, with a focus on examining interlinkages between the 17 Sustainable Development Goals
My PhD thesis, co-funded by the ESRC and the University of Sussex, examined the emergence of low-carbon innovation systems in new locations. Specifically I looked at the growth of wind energy in Ireland over a 25 year period and asked why and how some countries are capable of "rapid catch-up" despite a low scale indigenous industrial base.
Prior to joining SPRU, I was technology director at 38 Degrees, the UK's largest people powered campaigning movement where I occasionally advise on technology and political advocacy. I am the founding chairperson of Uplift, the people powered organisation for change in Ireland where I retain a board role focussed on governance and strategy. I tweet here: @cian.
Role
Associate Faculty at SPRU - Science Policy Research Unit
Qualifications
PhD Science and Technology Policy. SPRU – Science Policy Research Unit, University of Sussex.
MSc. Sustainability and Management. University of London, Royal Holloway.
BA (mod) Information and Communications Technology. Universtiy of Dublin, Trinity College.