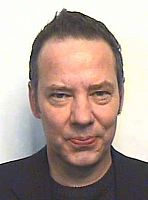 Dr
Frank Krutnik
Biography
I studied for a BA in English & American Literature at the University of Warwick, where I first had the opportunity to encounter film studies, and then signed on for a PhD at the University of Kent. My PhD thesis was the basis for my highly successful book In a Lonely Street: Film Noir, Genre, Masculinity, which has become a key reference point in critical work and university courses devoted to cinema, genre, and gender studies. Another book, Popular Film and Television Comedy (co-authored with Steve Neale), similarly established itself as a major influence on future scholarship in the field. Both volumes continue to be widely cited in contemporary film and media studies, and used extensively on university film and media courses, as are many of the articles and chapters I have written on the comedian film, romantic comedy, film noir, and other aspects of Hollywood cinema and US popular culture. My monograph Inventing Jerry Lewis provides in-depth critical scrutiny of a highly controversial entertainer, as a means of exploring intersections between cinema and other media, authorship, genre, comedy, stardom, performance, and the shifting contexts of US popular culture. Besides these monographs, I have edited a critical anthology on Hollywood comedians, and have co-edited the book Un-American Hollywood as well as special issues of the journals New Review of Film and Television and Film Studies.
I was convenor of the MA Film Studies from 2005-2012, and served as subject head for Film Studies from August 2012 to December 2017.
I have served as external examiner for MA programmes at the University of Exeter and the University of Portsmouth, and have examined numerous PhD theses in Britain, Europe and Australia.
email: f.s.krutnik@sussex.ac.uk
Telephone numbers
Internal: 2769
UK: 01273 872769
International: +44 1273 872769
BA (Warwick), PhD (Kent)
Role
Reader in Film Studies
Community and Business
Besides my extensive catalogue of scholarly publications, I have made several well-received contributions to recent blu ray releases devoted to film noir from Arrow Academy and the bfi, which have allowed me to explore audio-visual vehicles for the presentation of film criticism, analysis and history (via video lectures and video essays).