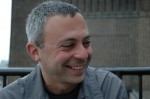 Prof
Daniel Kane
Biography
I was born in New York City and raised in Manila, Philippines; Mexico City, Mexico; London, England; Tenafly, New Jersey; and New York City. I received my BA from Marlboro College in Vermont and my Ph.D from New York University.
Community and Business
Involvement in external examining at research-intensive universities
I have served as PhD External Examiner for the following institutions:
Aberystwyth University
Birkbeck, University of London
Newcastle University
Royal Holloway University
Additionally, I am currently serving as External Adviser to the University Approval Panel that will consider the new MFA in Creative Writing, Roehampton University.
External Assessor for Junior Research Fellowship applications
University of Oxford
University of Cambridge
External assessor in professorial appointment panels at research intensive universities
University of Leeds