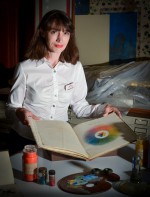 Dr
Alexandra Loske
Post:
Administrative Assistant (Media, Arts and Humanities (Professional Services), Sussex Centre for Language Studies)
Other posts:
Administrator (Centre for Life History and Life Writing Research)
Associate Tutor (International Summer School)
Location:
ARTS A
Email:
A.Loske@sussex.ac.uk
download vCarddownload vCard to your mobile
Biography
Dr Alexandra Loske is an art historian, curator and editor with a particular interest in late eighteenth and early nineteenth century European art and architecture. She was born and grew up in Germany, came to England in 1997 and has been working at the University of Sussex since 1999.
She recently published a substantial book on the history of colour systems in art and print culture Colour - A Visual History (Spring 2019, Octopus/Tate/Smithsonian Institute/Prestel), which has been translated into German, French and Mandarin, a book on the Moon in art, science and culture (co-authored with astronomer Dr Robert Massey), as well as a guide book on Brighton, Lewes and surroundings. in 2019 she also co-edited an anthology of new creative writing on the Moon (Pale Fire, published by The Frogmore Press).
She has contributed to a monograph on George IV as a patron of the arts (Royal Collection Trust, 2019) and is currently editing a volume on colour in the nineteenth century for The Bloomsbury Cultural History of Color (to be published in 2020).
Alexandra obtained an M.A. in Linguistics and English Literature from Humboldt University Berlin in 1997 and ten years later added an M.A. in Art History from the University of Sussex. She then secured an AHRC funded D.Phil scholarship. Her research was based at the Royal Pavilion, Brighton. Alexandra received her PhD in July 2014.
Alexandra holds a part-time post as Curator at the Royal Pavilion and and has curated a number of exhibitions:
From April 2012 until November 2015 Alexandra served on the board of trustees of the Regency Society of Brighton and Hove.
Role
Dr Alexandra Loske joined the team of associate tutors in the department of Art History in November 2008 and has since been teaching the modules Visual Cultures II and Art on Site and contributed to the lecture courses Communicating Art, Stories of Art, Objects of Art, Art and Artists, Art in the Modern Era, Art and the City, and Exhibition Studies. Since 2014 she has been delivering Widening Participation workshops for the Art History department.
In December 2013 Alexandra joined the Centre for Life History and Life Writing Research as an associate researcher and administrator. She is currently working on the oral history of the Art History Department of Sussex University.
Alexandra was the Resources Coordinator and Language Learning Advisor of the Language Learning Centre from 2001 until 2011.
Qualifications
Ph.D. in Art History. University of Sussex (2014).
M.A. in Art History (distinction), University of Sussex (2007)
M.A. in English Literature, Linguistics and Medieval Studies, Humboldt Universität zu Berlin (1997)
Activities
Reviews, editorial work and writing projects:
Alexandra is the Managing Editor of The Frogmore Press. She oversees its web presence, writes book reviews for the bi-annual literary magazine The Frogmore Papers and edits the Frogmore Press news blog. in May 2012 she edited and published Languages of Colour, an anthology of critical writing, poetry and artwork on the theme of colour and colour theory.
Since 2013 Alexandra has been a regularly contributor to CRITICKS, the review section of the British Society for Eighteenth Century Studies. From October 2014 until January 2016 she was the Fine Art reviews editor of CRITICKS.
TV and Radio work:
Antiques Roadshow (BBC, 2010), Antiques Road Trip (BBC, 2011), Sarah Beeny's Restoration Nightmare (Channel 4, 2011), Par Avion (Arte, France and Germany, 2012), Urban Secrets with Alan Cumming (Sky, 2012), Japanese TV (2012), Lucy Worsley: Fit to Rule - How Royal Illness Changed History (BBC, 2013), Michael Portillo's 'Great British Railway Journeys' (BBC, 2014), The Wonder of Britain (ITV, 2014/15), Radio 4 Kitchen Cabinet (BBC, 2016), SE Today (BBC, 2016), Forum - Goethe: the Story of Colour (BBC World Service, 2017) and several European TV travel shows about Brighton.
.
Conference papers and lectures:
2019:
2017/18:
Several lectures, talks and papers on the significance of Humphry Repton's designs for the Royal Pavilion Estate, dating from 1806 (published 1808), as part of the 200th anniversary of Repton's death.
2016:
Co-organisor of Chinese Wallpaper: Trade, Technique and Taste, an international conferenceon the subject of Chinese wallpaper (London, 7-8 April 2016, and Brighton 9 April 2016).
2015:
27 March 2015: From Field to Merrifield: Approaches to colour in the early Victorian age. Research paper for the annual ICON Historic Interiors Conference, Corpus Christi College, Cambridge, 27th March 2015.
9 January 2015: A State of Dress: Costume and Clothing in Works by Early Twentieth-century Women Artists in the Collection of Brighton Museum and Art Gallery. Paper forArt, Craft, and the Fin-de-Siècle: Britain and Russia (PART II): The End of Empire: Women Artists in Britain and Russia, 1880 – 1917. The Courtauld Institute of Art, London.
2014:
September 2014:Inspiration, appropriation, creation: Sources of Chinoiserie imagery, colour schemes and designs in the Royal Pavilion, Brighton (1802 – 1823). Paper for the conference The Dimension of Civilisation (MOCA) in Yinchuan, China.
11-12 July 2014: 'Chinese Landscapes in yellow etched in gold and highly varnished': The influence of export ware and print culture on colour and ornament in the Royal Pavilion, Brighton. Paper for the conference Objects, Families, Homes: British Material Cultures in Global Contexts (The British East India Company at Home), University College, London.
28 March 2014: 'Carmine, Lake, Vermillion, Crome Yellow and other expensive colours': The influence of colour theory and pigment production on the decorative schemes of the interiors of the Royal Pavilion, Brighton. Paper for the Sixth Annual Cambridge Conference of the Historic Interiors Section of Icon 'Regency Interiors', Corpus Christi College, Cambridge.
21 February 2014: Turner and Constable in Sussex. A talk for the Friends of St Michael's, Brighton.
2013:
2 November 2013: Sussex and the Artist: Turner, Constable and the Picturesque Landscape. Lecture for the conference Sussex and the Georgian Age (Sussex Archaeological Society), Lewes.
1 October 2013: Deutscher Expressionismus im Fokus: Die Brücke und Der Blaue Reiter. Lecture for the Leeds Anglo-German Club.
28 June 2013: Brighton Pavilion to Buckingham Palace: A Masterpiece Moved. Accompanying Tim Gosling. Masterpiece 2013, London.
27 June 2013: Light and colour from the East? Curator's talk as part of the Regency Colour and Beyond exhibition at the Royal Pavilion, Brighton
3 April 2013: The Regency Society John Small lecture: Regency colour and Colour Theory. The Royal Pavilion, Brighton
22 February 2013: "Boldly carved, silvered and tinted…": The Use of Silver As Architectural Colour in the Royal Pavilion, Brighton. Global Perspectives on Colour Symposium, Royal College of Art, London
2012:
15 November 2012: Regency Colour and Chinoiserie in the Royal Pavilion. Petworth House, The National Trust.
13 October 2012: Regency Colour and Chinoiserie in the Royal Pavilion. The Regency Society Weekend, Brighton, 12-14 October 2012.
13 July 2012: Enlightened Romanticism: Colour theory in the age of Moses Harris, Goethe and George Field. Progress in Colour Studies 2012, University of Glasgow
30 June 2012: Midwifery and Mourning in Regency Britain. Royal Pavilion and Museums, Brighton
21 June 2012: Princess Charlotte: Daughter of England. Royal Pavilion and Museums, Brighton
7 June 2012: Princess Charlotte - The Forgotten Princess. Lecture at the National Portrait Gallery, London
1 March 2012: Robert Goff - An Etcher in the Wake of Whistler. Lecture to the Royal Pavilion Foundation, Brighton, The Royal Pavilion
2011:
23 November 2011: Mary Gartside: A Rare Example of a Female Colour Theorist in Early 19th c. England. Work in progress seminar, Department of Art History, University of Sussex
13 October 2011: Colour Theory in the Age of Goethe. Lecture, Institute of Physics, University of Durham
16 September 2011: George IV and his Giraffe - A Tale of Politics, Exoticism and Science. Fundraising lecture, St Michael's and All Angels, Brighton.
31 May 2011: Colour Theory Before Maxwell. Lecture, King's College London, Anatomy Theatre and Museum
22 March 2011: George IV and his Giraffe - A Tale of Politics, Exoticism and Science. Lecture to the Friends and Patrons of the Royal Pavilion, Brighton, The Old Courthouse
15 March 2011: Byron and the Prince Regent - Two Romantic Georges. The Byron Society, The Naval Club, London
25 November 2009: Regency Colour Theory - Lecture to the Friends and Patrons of the Royal Pavilion, Brighton, The Old Courthouse
11 June 2009: Mary Gartside: A Rare Example of a Female Colour Theorist in the Early Nineteenth Century. Given at Transitions: An Interdisciplinary Conference. Pelham House, Lewes
Other training and experience:
17 - 21 June 2013: Yale Center for British Art Summer Seminar: Coloring Color - The History, Science and Materiality of Paint.
1 - 19 July 2011: The Attingham Trust Summer School 2011
September 2009: Royal Collection Studies course (The Attingham Trust).