University news
Holocaust Memorial Day 2021: 'Be the light in the darkness'
Posted on behalf of: University of Sussex
Last updated: Wednesday, 27 January 2021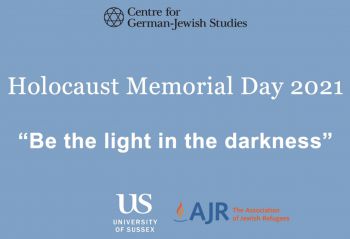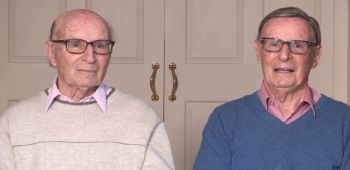 This year's Holocaust Memorial event for the University of Sussex, on the theme of 'Be the light in the darkness', will take the form of a live Q&A session with two Holocaust survivors.
The University's Vice-Chancellor, Adam Tickell, said: "We sadly find ourselves commemorating Holocaust Memorial Day [Wednesday 27 January] online this year.
"Our guest speakers, Peter and George Summerfield, are a prime example of the light that shines through despite their circumstances – and we are delighted that they have agreed to share their story with us."
Twin brothers George and Peter were born in Berlin in 1933, four months after Hitler came to power. Their parents were already suffering under the restrictions placed on Jewish people by the Nazis and, from 1936, they tried to find a country which would accept the family as immigrants.
The family were finally able to escape by catching the last train to leave Berlin before war was declared. However, all their possessions and luggage were stolen, and in August 1939 they arrived in England, penniless and with only hand luggage.
Sadly, not all their family were able to flee to the UK, and their grandmother and uncle were murdered by the Nazis.
You can watch a recorded video testimonial featuring the twins talking about their escape from Nazi Germany.
Following this, at the online event on Wednesday 3 February you will be able to ask George and Peter further questions about what was discussed in the video and about their lives under the Nazi regime.
Book your place on the Zoom event, which will take place at 2pm. Please send your questions for the brothers in advance to events@sussex.ac.uk
The Vice-Chancellor said: "We believe that it is imperative that young people learn of the atrocities of the Holocaust, and we continue to educate society about the dangers of exclusionary institutional structures, prejudice, discrimination and dehumanisation – whether that's the antisemitism that fuelled the Holocaust, or other forms of racism and intolerance.
"This annual event demonstrates our commitment to Holocaust commemoration and education."
The event is supported by the Association of Jewish Refugees.