Research news
University of Sussex Business School improves position as one of the country's best for research income
By: Charlotte Humma
Last updated: Wednesday, 15 September 2021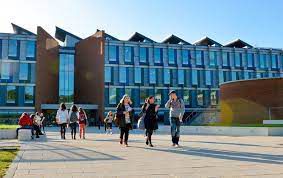 The University of Sussex Business School has risen to second in the UK for research income, according to a new report by the Chartered Association of Business Schools (CABS).

The latest CABS Research Income for Business and Management report shows the Business School received more than £11 million over the last three years (£11,148,000 for the combined period of 2017/18 to 2019/20).

The figure leaves the Business School second only to the University of Warwick in the UK and marks a rise of one place from last year's standings for the period.
It is the fifth year in a row that the Business School has been ranked in the top five in the country for research income by CABS whose annual report is based on data from the Higher Education Statistics Agency.
According to the CABS report, the University of Sussex Business School is the best-performing non-affiliated business school, eg not connected to a mission group such as the Russell Group, for research income over the past five years.
The Business School received almost £6 million more in research grants between 2014/15 and 2019/20 than its closest non-affiliated peer institution.

The report also highlights the Business School as the fourth most successful in the country in securing Economic and Social Research Council (ESRC) funding in 2019/20 with a total of £870,000 and fourth in the country for securing Engineering and Physical Sciences Research Council (EPSRC) funding with £572,000 awarded over the same period.
Professor Steven McGuire, Dean of the University of Sussex Business School, said: "It is really pleasing to see the latest CABS report confirming our position among the very best in the country for research income and outperforming against many larger institutions. The willingness of funders to support our research is reflection of the quality of our bids, which address important societal issues and help shape government policy and organisational practice.
"This is the result of tremendous hard work from both our academics and our incredible research support team working together to deliver outstanding outcomes year on year.
"It is great to see significant grant success being achieved across different departments within the school and I know we all share the same ambition to continue our progress and momentum on research income for the future. We have had notable successes by the Sussex Energy Group and the UK Trade Policy Observatory and as noteworthy has been the success of academics securing funding for a range of projects related to recovery from Covid.
"Our outstanding figures are proof that funding bodies can entrust this organisation with significant seven-figure grants and know that we have the institutional experience and know-how to deliver on that funding."