Student film-makers take a look at world for SEE Festival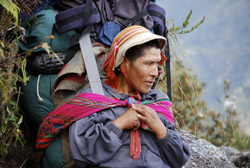 A still from 'Porters of the Inca Trail' - by MA Digital Documentary student Gabriel Manrique
Young film-makers from the University of Sussex are making their mark in the world of documentaries, with four student films entered alongside award-winning talent for this year's SEE documentary festival (February 21-22).
Senior Lecturer in Media and Film Lizzie Thynne will introduce films made by graduates of the University's film courses at a special University of Sussex showcase, open to the public free of charge, on the Saturday morning (February 21), from 11.15am in the UMI Suite at the SEE festival venue, the Umi Hotel in Kings Road Brighton. They are:
Take Over (30 mins) charts the actions of a group of Brighton squatters who take over an old church, directed by Jordie Montevecchi (MA Digital Documentary);
Coed Hills (13 mins) follows the lives of members of a community committed to a sustainable lifestyle (Lauren Simpson and Laura Bailey (Media Practice and Theory);
Porters of the Inca Trail (30 mins) tells the story of the porters who struggle for basic employment rights while working for the tourist trade in the Andean highlands, directed by Gabriel Manrique (MA Digital Documentary);
Morts Pour Rien (15 mins) goes behind the headlines, following up the Parisian riots of 2005, which erupted after the deaths of two teenagers during a police pursuit in a city suburb, directed by Tom Little, with Dave Silver, Dom Breeze and Michael Leonidis.
Highlights of the two-day festival include screenings and discussions from top documentary film makers, including Marc Isaacs, Kat Mansoor, Jerry Rothwell, Toby Amies, Elizabeth Stopford, Daisy Asquith,Henry Singer, along with Patron and Ditchling-based filmmaker Luke Holland, of BBC Storyville fame.
Film-makers will also be able to pick up tips and hone their skills through a series of workshops and master classes scheduled over the weekend.
Lizzie Thynne, who is also a documentary maker and who will be chairing another session with directors and editor from the BBC2 flagship documentary strand, Storyville, says: "This will be a great experience for our students and something they will certainly benefit from. It's good to see our documentary students finding
recognition and a wider audience for their work beyond the University."
SEE Festival will be marking its 2009 Launch with a special event in association with BAFTA and Screen South. On Friday 20 February Three Miles North of Molkom will be screened at the Odeon Cinema in Brighton followed by a Q&A with co-directors Robert Cannan and Corinna Villari-McFarlane.
Notes for editors
SEE was founded by David Notman-Watt, award winning local filmmaker and director of Back2back productions Ltd in 2005, and is the only festival in Sussex dedicated to factual filmmaking and television. For full SEE Festival listings, locations and ticket prices etc, visit SEE Festival / www.back2back.tv

For more information about film and media courses at Sussex, see: Media and Film

University of Sussex Press office contacts: Maggie Clune, Jacqui Bealing and Danïelle Treanor. Tel: 01273 678 888 or email press@sussex.ac.uk
Useful links