Imelda Staunton to read Mass Observation diary book on Radio 4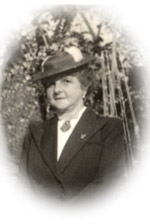 Nella Last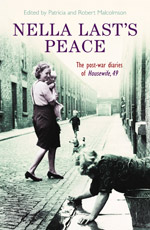 The book will be read by actress Imelda Staunton
Fans of the wartime writings of Nella Last - the Mass Observation diarist known also as 'Housewife, 49' - can now listen to the actress Imelda Staunton reading extracts from a new book based on her postwar diaries on BBC Radio 4.
The book of edited diaries by husband-and-wife team Bob and Pat Malcolmson, tells the story of Nella Last, a Cumbrian housewife with a talent for writing who chronicled her life for the social research organisation, Mass Observation.
Many other Mass Observation diaries, now held in the Mass Observation Archive at the University of Sussex, ended with the conclusion of World War II.
Nella, however, kept sending in her diaries to the Mass Observation office in London and continued writing until 1966 (Nella died in 1968). Her diary, consisting of around 12 million words, is one of the longest in the English language.
A first volume of her World War II diary, Nella Last's War, published in 1981, was turned into a successful TV adaptation by the actress and comedian Victoria Wood last year. The follow-up book, Nella Last's Peace - the Postwar Diaries of Housewife, 49 (Profile, £8.99) picks up the story in 1945 with victory over Japan, through to thoughts of emigration to Australia in 1948.
Ms Staunton will read extracts throughout the week from Monday 15 December to Friday 19 December at 9.45am, repeated each night at 11.30pm. It will also be available through the listen again facility on the BBC web site at BookoftheWeek
The book covers Nella's life in Barrow-in-Furness and those of her neighbours as well as creating a picture of the austerity of life in post-war England.
Bob, a University of Sussex MA graduate who has previously edited Mass Observation diaries with his wife Pat, says: "The new book represents only 10 per cent of Nella's diary. The first book had a natural narrative as it ran the course of WWII. We based our selection on events that together read like a novel. We also picked the sections that represent her writing at its very best.
"She was a talented writer. She believed that, in keeping diaries for Mass Observation, she was performing a social service. But as she carried on, it became a personal refuge for her thoughts and she loses track that others might read it. She complains about her husband and how she would have liked to have led a more gregarious life."
Pat Malcolmson says: "Nella gives us a sense that life is comical, weird. But she also has a painterly way of describing the beauties of the Lake District, where she spent a lot of her childhood. She had the discipline to write every day, usually around 1,000-1,500 words, recording everything from news events to what she cooked."
Pat says: "One of the stories involves a young neighbour, Jessie, who suffers from postpartum depression after the birth of her baby. She is sent to a psychiatric hospital and Nella records the anguish of Jessie's husband having to commit his wife. Nella writes newsy letters to Jessie that are a great comfort, and are read over and over. One day there's a knock on the door and it's Jessie."
The Malcolmsons were supported throughout their research by Dorothy Sheridan, then Head of Special Collections at the University of Sussex library and her team.
Bob Malcolmson says: "This is the finest collection of diaries anywhere in the world. There are 480 of them, covering a relatively small period of time, and yet every diary is different."
Notes for editors
Nella Last's Peace - the Post-war Diaries of Housewife 49 is published by Profile Books at £8.99 original paperback. For further information see http://www.profilebooks.com/
About Mass Observation
The Mass Observation Archive results from the work of the social research organisation, Mass Observation. This organisation was founded in 1937, with the aim of creating an 'anthropology of ourselves'. It recruited a team of observers and a panel of volunteer writers to study the everyday lives of ordinary people in Britain. This original work continued until the early 1950s.
In 1970, the Archive came to the University of Sussex and was opened up as a public resource for historical research. The Archive holds all the material generated by Mass Observation between 1937 and 1949, with a few later additions from the 1950s and 1960s.
The original Mass Observation idea of a national panel was revived from the Archive in 1981. New volunteer writers or 'Mass Observation correspondents' were recruited from all over Britain. The project continues under the direction of Dorothy Sheridan.
For more information: Mass-Observation
University of Sussex Press office contacts: Maggie Clune and Jacqui Bealing. Tel: 01273 678 209 or email press@sussex.ac.uk
Useful links