How babies can get their kicks in aid of research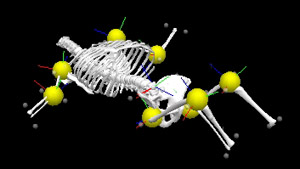 A reconstruction of the motion capture image, with a baby skeleton superimposed on top.
A new baby's wriggles and kicks are part of the joy of parenthood, but for scientists those movements could hold the key to early diagnosis and treatment of cerebral palsy.
Now those scientists are appealing for healthy new babies to help them in a research project that could improve the quality of life for children who have the condition.
They are developing a novel procedure which involves dynamic systems modelling (in this instance, using mathematics to understand the complex interaction between the different joints in the production of movement) and motion capture technology to help identify cerebral palsy earlier.
To carry out this research, computational neuroscientist Dr Luc Berthouze (University of Sussex and Developmental Cognitive Neuroscience Unit (DCNU), at the Institute of Child Health (ICH), University College London) and physiotherapist and physiologist Dr Margaret Mayston (DCNU) have set up the Kinematics Lab with the support of DCNU's head, Professor Faraneh Vargha-Khadem, and Great Ormond Street Hospital for Children (GOSH).
The researchers use tripod-mounted infra red cameras and computer software to capture, digitally simulate then analyse baby movements. The spontaneous movements of young babies have been measured before, but not as comprehensively as in this latest project. This is important because baby movements provide one of the earliest markers that something is wrong.
Dr Berthouze says: "We need lots of babies who are healthy and who are at the earliest developmental stages - that's between the ages of 2-4 months."
"All the baby has to do is lie on his or her back and play while reflective markers and stickers help to track the movements they make. The equipment is non invasive, does not stimulate the baby, and will not cause pain or discomfort.
"The recording itself is very short, usually made over multiple sessions of a few minutes each, meaning that the baby can be held in between these short sessions if parents would like to."
Special reflective markers and stickers placed on the baby relay information to a computer, which builds a digitised representation of the baby's head, trunk and limb movements -it looks like a star constellation rather than an actual baby. A baby skeleton model is superimposed so that the physiological detail of the movements can be studied.
A large number of babies is needed to ensure that the researchers build a truly representative picture of movements made by a wide range of healthy subjects. The picture built from these observations would provide doctors with information that would help them to make a diagnosis at an earlier stage than currently achieved.
Earlier detection, when a baby is still developing its motor skills, would make therapies used to ease the impact of the condition more effective.
Notes for editors
The term cerebral palsy covers a number of non-progressive conditions that cause disability in human development. According to the charity Scope, cerebral palsy is identified in one in four hundred live births annually in the UK.
If you would like to get involved in the project, please fill in the volunteer_form or contact Serife Dervish on 020 7905 2746.
University of Sussex Press office contacts: Maggie Clune or Jacqui Bealing. Tel: 01273 678 888 or email press@sussex.ac.uk
Useful links