Bursary scheme gives students taste of research life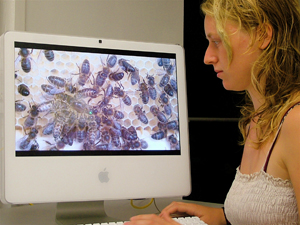 JRA student Heather Moore observing egg-laying behaviour of queen bees
Student vacations usually conjure up images of backpacking, festivals and holiday jobs.
But at the University of Sussex, 100 undergraduates competed to stay on campus and work alongside academics as part of a new scheme to support the researchers of tomorrow.
The new Junior Research Associate (JRA) bursary, enables talented and ambitious undergraduates interested in pursuing an academic career after graduation to get a taste of life during the summer months as a researcher.
Each student was supervised by academics researching in subject areas as diverse as photography and literature to research into diseases, quantum physics and bee biology.
A panel of University experts chaired by Professor Bob Allison, Pro-Vice-Chancellor for Research, selected 40 students, who received up to £2,200 to support them in their work over eight to ten weeks.
Now the results of their labours are to be displayed in specially-designed posters explaining their projects at an exhibition this week to celebrate the project's first year.
Professor Allison says: "I am delighted with the results. The quality of the applications was outstanding and reflects well on the scholarship this illustrates among our undergraduates. The exhibition will be a means of highlighting and celebrating the achievements of our talented undergraduates and promoting the opportunities open to new and prospective undergraduates."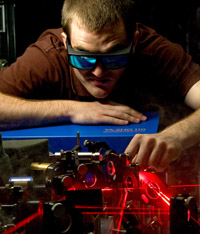 JRA student James Sayers at work on the laser table for his physics project
Featured projects include:
Egg-laying behaviour in queen honey bees: Heather Moore worked in the new social insect laboratory to observe queen bees in special hives.
Modelling experiments to demonstrate global wind and ocean water circulation - student Juan Salazar Aguila designed and built a rotating table and glass vessel needed to conduct three experiments
Shingle beach replenishment and sand dune evolution along the Kent coast - student Kjerstin Young conducted field work into coastal erosion on the South Coast, using tracer pebbles and analysis of aerial photography
Lasers and locking for ion trap quantum computing. Student James Sayers helped to fine-tune lasers used in quantum physics research and also worked on developing a cheaper, more effective "cool" laser
Synthetic vision for the blind by means of auditory display: Student Tom Macpherson tested computer software that converts visual images via a camera into sounds on blindfolded participants
A simulation of the hand: Student Max Harlow created a digital simulation of the skeletal, muscular and neural structure of a child's hand, potentially for use by his supervisor, who is conducting research into the effect of cerebral palsy on the motor development of infants.
Participating students also benefited from a series of events organised by the Regional Development Office to introduce the concept of sharing research ideas and findings with the business community.
Funding for the scheme came from donations made by former students through the University's Development and Alumni Relations Office (DARO). Further funding came from the medical charity the Wellcome Trust and from the Nuffield Foundation.
In future years, it is hoped that the JRA scheme will be expanded to provide opportunities for greater numbers of talented undergraduates.
Notes for editors
The Junior Research Associate Research Poster Exhibition was held on Wednesday 24 September, 2008, 12.30pm to 2.30pm, BSMS building foyer, University of Sussex campus.
The JRA - views from participating students and academics
Heather Moore - Honey queen bee research
"The bursary was an amazing opportunity for me. I now feel much more confident for my final-year project. It was great to study alongside so many talented people, and I also took part in special interviews for BBC 2's Newsnight and Sky TV News."
Heather's supervisor Professor Francis Ratnieks (Biology)
"Heather's project has told us something new about honey bees. We will be publishing the results in a scientific journal. Heather has learned a lot about science by doing it and by being surrounded by other scientists."
Juan Salazar Aguila - Geophysical Flows and Climate Modelling
"It's a great scheme. It gives a keen undergraduate an opportunity to learn about science research by carrying out a real project under the guidance of an established researcher, and it gives the researcher a chance to make his lab more productive. It's a "win win" combination.
Kjerstin Young - Shingle beach replenishment and sand dune evolution
"The JRA scheme has equipped me with first-hand experience of the realities of research and working within the academic community, which will be invaluable in the future as I am now hoping to progress to postgraduate study. I'm very grateful to everyone who has made the scheme possible.'
Kjerstin's supervisor, Dr Cherith Moses (Physical Geography)
"Kjerstin's work has really helped give us a clearer understanding of the processes she investigated."
James Sayers - Lasers and quantum computing
"The JRA scheme allowed me to step through a different door away from day-to-day lectures into the world of research, including operating state-of-the-art lasers."
Jamie's supervisor Dr Winfried Hensinger (Physics)
"The JRA scheme was tremendously successful in advancing my research in quantum technology and giving the student a feel of what it takes to build a new type of computer based on the mysteries of quantum physics."
Tom Macpherson - Synthetic vision for the blind by means of auditory display
"I found the JRA research scheme to be an amazing oppertunity, which
gave me the freedom to explore an area of research that had sparked my
interest."
Tom's supervisor Dr Jamie Ward (Psychology)
"Our research has shown that blindfolded people can use sounds derived from visual images in order to explore the world. Our next step is to see how well blind people themselves can use this device".
Max Harlow - A simulation of the hand
"Working on a large-scale real-world project was one of the most enjoyable aspects of the JRA programme for me, and the experience has convinced me to more seriously consider pursuing further research as a career path."
Max's supervisor Dr Luc Berthouze (Informatics)
"The project involved the acquisition of knowledge that is certainly not in the realm of what could be expected from an undergraduate from the Informatics department. Max had to study anatomy textbooks, participate in the dissection of a human arm and hand (at BSMS) and work collaboratively with graduate students involved in research into the brain pathways responsible for controlling the hand."
The Wellcome Trust is an independent charity funding research to improve human and animal health. Established in 1936 and with an endowment of around £15 billion, it is the UK's largest non-governmental source of funds for biomedical research. See: Wellcome
University of Sussex Press office contacts: Maggie Clune and Jacqui Bealing. Tel: 01273 678 888 or email press@sussex.ac.uk
Useful links