Sussex graduate named top physics student of the year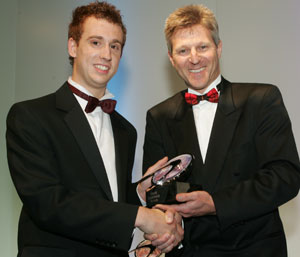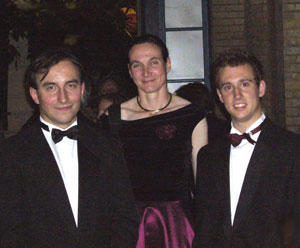 Outstanding University of Sussex physics graduate Paul Skrzypczyk has been named Physics Student of the Year in a national science competition.
Paul, who this year earned a first-class Theoretical Physics MPhys degree at Sussex, was shortlisted for the prize with fellow Sussex physics undergraduate Robert Zietal. A total of 45 students were shortlisted for 15 categories.
The Science, Engineering and Technology (SET) awards are organised by the World Leadership Forum to reward and highlight excellent achievement by science students. This year saw record numbers of entries from every major university in the UK and Ireland and the judges paid tribute to the exceptional quality of this year's work.
The National Physical Laboratory Award for the Best Physics Student trophy was awarded to Paul by a panel from the Institute of Physics at a special dinner at Alexandra Palace, London, last night (20 September), attended by leaders from the world of business, technology and the media.
After the ceremony, Paul said: "I'm very honoured and also very surprised to have this award. It was great to make it to the final and to be invited to attend the evening ceremony."
He added: "I thoroughly enjoyed my time at Sussex. The physics department is great, and all of the lecturers are friendly, approachable and supportive. I need to say a big thank you to Dr Claudia Eberlein, for all of her advice and encouragement over the past few years. I would also like to thank my project supervisor, Professor Gabriel Barton, who guided me along the way."
Paul is now about to start a DPhil at Bristol University in Quantum Information Theory.
Paul was entered for the competition because he impressed both Dr Eberlein and Professor Barton with his outstanding research and exceptionally high marks throughout his four-year degree course. Senior Lecturer Dr Eberlein, who nominated both Paul and Robert for the SET award, says: "Paul's project work and thesis almost reached the standard of a doctoral thesis. The whole department is delighted with his success."
Runner-up Robert, who also graduated this summer with an MPhys in Theoretical Physics, was nominated after assisting Dr Eberlein in a research project, which became his final-year project. The work was eventually published this year in Physical Review. He studied while supporting himself working as a chef.
Dr Eberlein says: "Robert is a brilliant student, but what really makes the difference is his unrivalled dedication to research. He had the energy and dedication to study to exceptionally high standards."
Robert is now continuing research as a DPhil student at Sussex, and will be working with Dr Eberlein on a new research project, looking at the behaviour of single atoms.
Dr Eberlein added: "Getting not just one but two students recognised as the best in the country is an outstanding achievement for the department."
It is not the first time that the University of Sussex Physics department has seen success at these awards. In 2000, physics student Emma King made history by winning both the Physics Student of the Year award and the overall SET Student of the Year award.
Notes for editors
The SET Awards are Britain's and Ireland's most important awards for science, engineering and technology undergraduates. They are organised by the World Leadership Forum and sponsored by Airbus, AstraZeneca, AWE, Balfour Beatty, Bentley Motors, Cadbury Schweppes, e2v Technologies, GKN, GlaxoSmithKline, The Institution of Engineering & Technology, Laing O'Rourke, Lloyd's Register Educational Trust, Microsoft Research, Morgan Crucible, The National Physical Laboratory and SAGE. They are supported and judged by The British Computer Society, The British Pharmacological Society, The Institute of Biology, The Institute of Food Research, The Institute of Marine Engineering, Science and Technology, The Institute of Materials, Minerals & Mining, The Institute of Physics, The Institution of Chemical Engineers, The Institution of Civil Engineers, The Institution of Engineering & Technology, The Institution of Mathematics and its Applications, The Institution of Mechanical Engineers, The London Mathematical Society, The Royal Aeronautical Society, The Royal Institution of Naval Architects and The Royal Society of Chemistry. For more information about the SET awards, see: http://www.setawards.org
For more information about Physics at Sussex, see: Physics
University of Sussex Press office contacts: Maggie Clune or Jacqui Bealing. Tel: 01273 678 888 or email press@sussex.ac.uk
Useful links