Book presents vivid new portrait of the Impressionists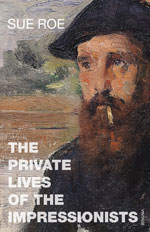 Manet, Monet, Pissarro, Cezanne, Renoir, Sisley, Berthe Morisot and Mary Cassatt...Their dazzling pictures are familiar, but how well does the world know the artists who became known as the Impressionists?
This month sees the paperback publication of University of Sussex creative writing lecturer Dr Sue Roe's much-lauded book, The Private Lives of the Impressionists (Vintage, £9.99).
In an evocative and moving narrative, Dr Roe shows how the early leaders of the group lived their lives in the studios of Paris, the rural lanes of Montmartre and rowdy riverside bars as Paris underwent Baron Haussmann's spectacular transformation from a city of slums and shacks to elegant boulevards.
For over twenty years they worked together as a group, struggling to rebuild their lives after the Franco-Prussian war and supporting one another through shocked public reactions to their unfamiliar canvases.
Dr Roe takes us into their homes and studios and describes their unconventional, volatile and precarious lives, as well as the stories behind the paintings.
She says: "The Impressionists' story reminds us that, even when nobody believes in you, it's worth struggling to experiment, innovate and study. I find them fascinating, as artists and as people, and I hope my readers will be inspired by them too.
Since its publication in hardback last year, The Private Lives of the Impressionists has appeared in the New York Times' bestseller list and is to be published in Italy, Germany, Spain, Poland, the Czech Republic and Korea. Reviewers have described it as a wonderful read, emotionally stirring and beautifully written.
Dr Roe is also the author Gwen John: A Life (Vintage, 2002). Her poetry has appeared widely in journals ( Agenda, in 2002, 2003, 2004 and forthcoming) and anthologies, such as New Poetries, III ed. Michael Schmidt (Carcanet, 2002). An experienced professional editor, she has also taught Creative Writing at the University of East Anglia. At the University of Sussex she is a Lecturer in Continuing Education (Creative Studies), where she runs the MA in Creative Writing.
Notes for editors
Useful links