Stars bring Our Hidden Lives diaries to life at Komedia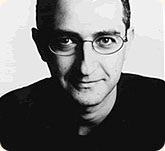 Author Simon Garfield
Actors Paul McGann and Greta Scacchi will join writer Simon Garfield to bring to life the characters featured in his anthology Our Hidden Lives - the book based on diaries of the Mass Observation Archive at the University of Sussex.
Paul McGann (The Monocled Mutineer, Withnail and I and Dr Who), and Greta Scacchi (Heat And Dust, The Player, Jefferson In Paris and White Mischief) will join author and Observer journalist Simon Garfield to read excerpts from his book at Mass Observation At 70! at the Komedia Upstairs in Gardner Street, Brighton, on Thursday 10 May, starting at 7.30pm. Tickets £8 (£6 concessions).
Our Hidden Lives draws on the diaries of Mass Observation contributors from 1945 to 1948. It forms part of an anthology trilogy (We Are At War; Private Battles) and was also dramatised for television, starring Richard Briers, as part of the 2005 BBC 4 season The Lost Decade, which focused on the post-World War II years.
To mark the 70th anniversary of the Mass Observation movement - an observational study of everyday life in Britain - Simon will also talk about his work with the Mass Observation Archive, housed in the Special Collections department of the University of Sussex library. The Archive was brought to the University in 1970 by Mass Observation's founder, the anthropologist Tom Harrisson.
The actors are taking time out from busy schedules to be part of this special Brighton Festival Fringe event and are delighted to be taking part.
Simon Garfield says: "These are invaluable records of quiet lives, sometimes despairing, often moving, occasionally bitter, frequently prescient and, I hope, consistently rewarding. Occasionally, they are just plain funny."
The Mass Observation papers that form the Archive - a collection of diaries and written observations that began in the 1930s with the Coronation of King George VI - have inspired numerous books, documentaries, films and television dramas as well as academic research.
The project was revived in 1981 and continues today as an educational charity under the directorship of Dorothy Sheridan, who is head of Special Collections at the University. A panel of volunteer contributors from all over the UK are invited to record for the Archive their thoughts, feelings and experiences in response to "directives" (open-ended questionnaires) on topical and personal themes.
Dorothy Sheridan says: "This conference and the related evening events in Brighton have been organised in the spirit of old Mass Observation - celebratory, entertaining, stimulating and maybe even provocative. I know Tom Harrisson would have liked that!"
Notes for editors
For full listing, tickets etc see www.komedia.co.uk or call 01273 647100.
For further information about Our Hidden Lives and Simon Garfield, see http://www.simongarfield.com/
Our Hidden Lives is part of a diary anthology trilogy published by Ebury Press, comprising Our Hidden Lives (paperback £7.99), We Are At War (paperback £7.99) and Private Battles (hardback, £19.99).
Reviews for Our Hidden Lives: 'A quite magical store of voices from another age' (The Observer); .'...Intertwines modest private lives with historic public events and in turn is poignant, shocking, informative and very funny.' (Mail on Sunday). See www.randomhouse.co.uk for more information.
For information about the Mass Observation Archive, see: http://www.massobs.org.uk/ or contact the University of Sussex Press office.
Press office contacts: Maggie Clune or Jacqui Bealing. Tel: 01273 678 888 or email press@sussex.ac.uk
Useful links