It's a family affair
As the University of Sussex prepares to celebrate its 50th anniversary, there is growing evidence that Sussex graduates like to keep their university in the family.
No less than 27 graduates will be attending this summer's five ceremonies as parents, grandparents, partners or children of graduating students.
Here are some of their stories:
When Toni Griffiths crosses the stage at the Dome to collect her degree in anthropology, two very important fellow graduates will be looking on with pride - her mother and her grandmother.
Toni is the third generation of her family to graduate from Sussex, making Friday afternoon's ceremony (Friday 22 July at 3.30pm) a truly family affair.
Toni's grandmother Rita Bennett took a degree course in French and Italian as a mature student, graduating in 1994. She now lives in Italy and is embarking on a doctorate there at the University of Salento in Puglia.
Toni's mother Liesel Wilkes decided to follow Rita into higher education, and on Rita's recommendation took a place at Sussex to study Social Policy, graduating in 2002. She now works as a Recovery Project Worker at the Eastbourne, Wealden and Lewes Adult Substance Misuse Service.
Now it's daughter Toni's turn to put on a gown and mortar board before she embarks on a career in teaching English in Spain, inspired by a year she spent abroad on the EU's ERASMUS student exchange programme.
But Toni's experience of Sussex began long before she became a student. Toni says: "I chose Sussex because both my nan and my mum had gone there and said it was a great university, but I had got to know it when they were studying there. I remember being in the library with my mum when I was quite young."
And will Toni like to keep the family tradition going? She says: "I love the idea of a fourth generation at Sussex."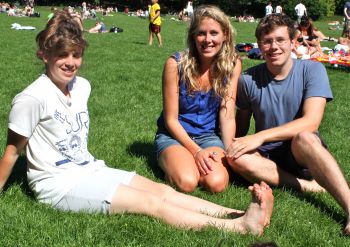 Bruce Warwick with sisters and fellow Sussex graduates Lucy and Katie
Sibling success: Bruce Warwick
Bruce Warwick will be rounding off a hat-trick of Sussex graduations for his family when he receives his degree in Politics and International Relations on Thursday (21 July), as both his sisters - Lucy and Katie - are Sussex graduates.
Lucy Warwick studied Sociology, then for an MA in Social and Political Thought, and graduated in 2005 and 2006 (for her MA). Katie studied Anthropology, graduating in 2007.
The experience of both sisters was the deciding factor for Bruce, 20, when it came to choosing a university. He says: "I knew I wanted to do Politics and IR, which I had heard had a good reputation at Sussex. Faced with a choice between Manchester and Sussex, the fact both my sisters had come to Sussex and had both had such a good time was the deciding factor.
But I chose Sussex for a variety of other reasons too: it has a reputation as a politically active campus, for its high standard of teaching both in Politics and International Relations, and for its proximity to Brighton!"
But the Warwick family association with Sussex is not about to end - Bruce will now be studying at the university for an MA in Human Rights."
And will there be further Warwicks finding their way to Sussex in the future? Bruce says: "I'll be the last - for now!"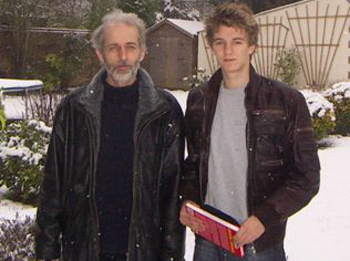 Dr Neil Munro and Harry Munro
Father and son graduate together: Dr Neil Munro and Harry Munro
Engineering graduate Harry Munro will be following in his father's footsteps at his graduation ceremony - his dad will be crossing the stage at Brighton Dome first, to receive his doctorate in education at the same ceremony.
Father and son found the courses they were looking for at Sussex: Harry, 22, opted for a four-year mechanical engineering degree while father Neil, 57, a GP from Leatherhead in Surrey, wanted to carry on with research begun in London into doctors' careers development.
Harry was attracted by the Sussex engineering course's foundation year programme, the campus and the bright lights of Brighton, while Neil, a busy doctor who also works as an associate specialist in diabetes at the Chelsea and Westminster Hospital in London, was impressed by the research work of Sussex academic Professor Michael Eraut, and the flexibility of studying for his doctorate part-time.
Having his father at the same University didn't appear to cramp Harry's style. He made full use of his time at Sussex, joining the University Royal Navy Unit (URNU), the rugby team and the mountain biking club, before landing a job with an engineering contractor in London. Harry says: "The nature of Dad's work was different to mine, so we didn't cross paths. And I think his lecture attendance needed a little improvement!"
Neil replies: "I was too busy trying to pay for Harry's university fees and accommodation! I also had a number of day jobs. I did appreciate the flexibility the university showed."
Neil adds: "When I realised that our graduations might coincide my instinct was to steer away from the day - other than to be there as Harry's parent. However, Harry would have none of it. I feel very proud, but it also feels just a bit strange!"
---