Follow the crowd – with help from leading psychologists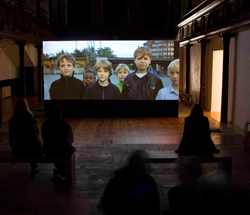 Events around the world have made 2011 the year of the crowd - from revolutionary protests in Egypt's Tahrir Square and anti-cuts protests in London to the shared experience of festival culture and the growing influence of Facebook campaigns and crowd-sourcing.
Now University of Sussex psychologists John Drury and David Novelli are linking with Brighton art gallery Fabrica to celebrate the power of the crowd during Fabrica's current exhibition Gathering.
The exhibition, which has now opened and runs to Sunday 27 November, features video installations of a choreographed crowd and another of a street party by London-based artist Melanie Manchot.
Dr Drury and Dr Novelli were commissioned to write about the themes of the exhibition and about their current research in crowd psychology. Dr Drury will also give a public talk on 'Collective joy and crowd empowerment' on Thursday 10 November at 7.30pm at Fabrica.
The two exhibition videos each cover themes addressed in experimental studies led by Dr Novelli in his work at Sussex: the role of shared identity in bringing people together in crowded places, and the role of shared action in bringing a physical gathering psychologically together.
Celebration (Cyprus Street) is inspired by the tradition of street parties in London's East End and was developed over a period of six months with the residents of Cyprus Street. It celebrates the fact that when we celebrate we typically do so together, in crowds.
Dr Drury says: "Psychology has much to say about crowds, their power, and the strong emotions that arise from participation in them."
Walk (Square) is the result of an event constructed by Manchot but inspired by real situations involving walking as a form of expression: processions, parades, pilgrimages and protest marches, such as those in the recent wave of mass demonstrations from the UK to the Middle East. In Walk (Square) 1,000 schoolchildren are shown moving in lines toward a city square, where they merge to become part of a large choreographed crowd. They then move together, synchronising their walking to form patterns that change, dissolve and re-form.
Dr Novelli says: "Recent research says something about why we gather together with others - because they identify in the same way that we do - and why it feels good when we are in a crowd with these others. But when we come together as a crowd we often move and act together, which makes the psychologist ask 'What are the psychological effects of such collective coordination?'"
Dr Drury says: "Research has shown that the people's sense of being part of a crowd - their social identity - increases through participation in the event. Moving together as one in time can serve to construct a collective identity. This is why rallies and marches are important in building social movements. It is no coincidence that Melanie Manchot's two works are inspired not only by mass pilgrimages, processions and parades, but also by recent mass demonstrations across both the Arab world and the UK."
The new writing commission is the first of its kind for Fabrica, and it's a natural extension of work that the gallery has carried out in the past few years, linking artist's perspectives with current scientific research. Fabrica attracts around 50,000 visitors per year.
---
Notes for Editors
Gathering (8 October-27 November 2011), Duke Street, Brighton
For further details see www.fabrica.org.uk
Collective joy and the power of the crowd (Thursday 10 November at 7.30pm)
A social psychological perspective on Melanie Manchot's exhibition 'Gathering' Fabrica gallery, Brighton, 8 October - 27 November 2011
For further details see: http://fabrica.org.uk/exhibitions/
Dr John Drury is senior lecturer in social psychology at the University of Sussex. His research interests include crowd empowerment, solidarity in mass emergencies, and positive experiences of 'crowding'. His research includes studies of anti-poll tax riots and anti-roads direct action and survivor responses to the London bombings. He has just edited, with Dr Clifford Stott, a special issue of the journal Contemporary Social Science on the topic of crowds. He is currently supervising research projects on the Hajj to Mecca, collective action and wellbeing, and crowd communication by the emergency services.
Dr David Novelli is a social psychologist at the University of Sussex, specialising in crowd psychology. His research focuses on how social identities and group memberships influence the ways in which we experience being in crowds, and how acting together in crowds can affect positive emotions and feelings of solidarity. This year David was awarded the annual prize for the country's most outstanding doctoral thesis by the British Psychological Society. He is currently looking at how our (positive and negative) experiences at large-scale music events can be shaped by assumptions about crowds held by those who organize and manage such events.
University of Sussex Press office contacts: Maggie Clune and Jacqui Bealing. Tel: 01273 678 888. Email: press@sussex.ac.uk
View press releases online at: http://www.sussex.ac.uk/newsandevents/
---