People features
This Sussex Life. Jamal Edwards, entrepreneur: "The worst that happens is someone will say 'no'."
By: Jacqui Bealing
Last updated: Thursday, 9 December 2021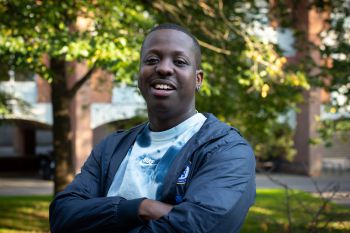 Jamal Edwards MBE, one of the first Entrepreneurs in Residence at the University of Sussex, talks about his career journey and how to motivate students to follow their business dreams.
It's an honour to be the first Entrepreneur in Residence at Sussex. I'm available to give students advice about how to start their business and to remind them not to doubt themselves. When I hear students say "I won't be able to do that", I say the worst thing that's going to happen to you is that someone is going to say "no". I want students to come to me with their ideas and to use my network to leverage them. If I can get people thinking "why not?", I've made an improvement.
I started my video business, SBTV, when I was 15 because the artists that I wanted to film weren't being represented on mainstream media. Predominantly it was underground artists, and then I branched out, filming Ed Sheeran, Emile Sande, Stormzy, Skepta... I felt loads of people wanted to watch this content but couldn't find it anywhere, so that's why I started to upload it to the internet. YouTube was only about a year old and it had become this democratic platform for people.
I did it the unorthodox way. Everything was self-funded until I was 21. I'm 31 now. Google Chrome, which came out when I was 20, really pushed me into the mainstream and helped me to get millions of viewers and subscribers. That was our bread and butter. Then we added merchandise and organised events and had sponsors on top of that. Now we do consultancy for brands; the whole 360-package.
The next stage for me is long-form content because everything I've done so far has been five minutes. At the moment we have a Channel 4 series, Unapologetic, in production with hour-long episodes. I want to show that I can do it. After that, it will be making films. We have stuff in development with NBC and Universal, and I want to work with Amazon and Netflix.
There are three key things I wish I knew when I started out. Firstly chase your dreams, not the competition. You're going to find lots of people have the same idea as you. When you look at other people, it dampens what you want to do, so you have to do what you can do really well. Secondly, understand tax and receipts and work out where you're spending your money. There are some great banking apps that show you exactly what you're doing with your money. For example, last month I realised I spent a lot on sweets! The third thing is delegation. If you don't do it, you won't be able to scale your business.
I've been immortalised in Acton, where I grew up. Artist Matt Small took kids from the local schools to Acton recycling centre and they've made a mural of me in Acton High Street. It's because I set up a project [Jamal Edward Delve] and raised money through Google and the Wellcome Trust to reopen four youth centres that were shut down. That's an 'up' moment for me. It has motivated me .
Because I am non-stop, I burn out a lot. When it happens, I go for a drive in the countryside, I walk through the grass. Also riding my bike calms me down. Mental health issues interest me a lot, which is why I did avideo for the Guardian about men and suicide.
I grew up in a loving household with my step-dad, my mum and my sister, but my parents didn't understand why I was always trying to make videos as a teenager. They would take my camera from me and ground me. They asked me why I wasn't going to college or to work. But I was soon getting tens of millions of hits on YouTube.
My mum taught me a great lesson about not accepting defeat. I went to get a job at Topman, but they didn't give it to me. When I went home, Mum asked why I didn't get it. She told me to go back. I said I wasn't going to, so she walked me back there and said, my son will work here for two weeks for free. So I did it and they then gave me a job, and I worked there for five years. I had to get over that mindset. [His mum, Brenda, is a singer and TV presenter after competing on the X-Factor in 2005]
When I told teachers I wanted to be an entrepreneur, they would laugh in my face. They said, think of another career. It wasn't taken seriously then. I didn't go to university, but it might have changed my outlook If I knew that I could do something like computer science or neuroscience and still do entrepreneurship. I feel I would like to go to uni one day, maybe do film school and learn more about the techniques. Everything I've done is self-taught.
I see entrepreneurship as problem solving. There was an app in London on the London tube that told you which carriage to get off to get to the to exit the quickest. That app sold for millions because it was solving so many people's problems. I'm telling students to look at their everyday problems and try to solve them. People always thinks, why hasn't that been done already? They don't think they could do it. I want them to get over that hurdle.
Richard Branson has been my inspiration. My mum was the accounts payment manager for Virgin, and she took me on company awaydays when Branson rented out a theme park. The rides and everything was free for employees and their families. It was so cool. It prompted me to find out more about him. I later won a competition for Best New Start-up and went to his house to meet him. Since then we have stayed in touch. Having that relationship is surreal.
This profile is part of our This Sussex Life series