Show and Tell 2018
Library Staff Annual 'Show & Tell' Event December 2018
The Library's annual Show & Tell event was created by the Innovation Group as a means for Library staff to showcase their work. Each year, we invite colleagues from all sections (and across campus) to come and see what we've been up to. Check out some of this year's stalls below:
Innovation Group
The Innovation Group acted as both focal point and coordinator for the Library's Show & Tell event. It functions as a cross-section group whose aim is to embed innovation in the Library culture, by encouraging all library staff to share ideas and best practice, make best use of technology, and invigorate our relationships with all the Library audiences.
They displayed infographics of the year's successes: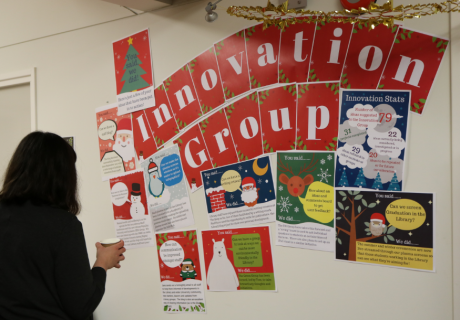 Technology Enhanced Learning (TEL)
Rachel Bramley, currently working as the Online Distance Learning Librarian, came along to demonstrate how library resources are being embedded into Canvas to support ODL students. Personas were created to mirror student experience, and library staff were then guided through specific modules to their online reading lists and Etextbooks. Every module has an online reading list composed solely of digital resources, and each module is offered an Etextbook, although it's not always required.
Collection Development
Collection Development displayed a selection of items from the newly catalogued Legacy War collection.
This is a diverse collection of pamphlets relating to conflict produced between 1913 and 1980 covering topics such as education, gender, religious attitudes, politics and trade during war time.
The Legacy War collection is fully discoverable on Library Search and items can be viewed within the Library. Please look at our Legacy Collection Blog for more information and pictures!
https://blogs.sussex.ac.uk/legacycollection/
Frontline Services
Frontline Services shared the recently filmed 360 video to showcase the Library's new Quiet Routes tour: https://www.youtube.com/watch?v=t4JcAs_dS2k
The Library can be very noisy and busy and this can be intimidating for students with anxiety issues or students with autism. Students are taken on a one-to-one tour of the Library showing them the quieter entrances, exits and lesser-used staircases and study spaces. The tour was developed with Student Support and has already been well received. At the Show & Tell staff donned a Virtual Reality headset to experience the tour as a full 360 degrees experience.
Research Support
At Show and Tell this year Research Support gave an exclusive behind the scenes peak into what goes on in the institutional repository Sussex Research Online. Using screen capture software, a video was created that recorded the journey of depositing an item on the repository and this included all the necessary checks that are done along the way. A second video was also created that looked at the global impact of Open Access research and how this can be evidenced through records on Sussex Research Online. To add some technical flair to the proceedings these videos were accessed on the day using Augment Reality software HP Reveal.
Research Support and LATS hosted a Living Library as part of the Festival of Doctoral Research in June 2018, which showcased the contribution Sussex researchers make to the campus community and worldwide. The Open Learning Space was transformed for the day and instead of books, visitors borrowed a fellow doctoral researcher for a 20-minute chat on topics from mental health and writer's block to studying part-time, failing fieldwork and presenting overseas. It can be hard for doctoral researchers to connect with their peers when the work is so independent. The Living Library brought them together to support their fellow postgrads and learn from each other's experiences.
Living Library round-up:
https://sussexresearchhive.wordpress.com/2018/08/14/borrowing-books-at-the-living-library/
The Festival itself included a public engagement pop-up, a photographic exhibition of research images and the final of Sussex's Three Minute Thesis competition. The winner, Jo Cutler, went forward to the national semi-finals with her three-minute abstract on the charitable brain: https://youtu.be/gsxlza9DZEE
Festival of Doctoral Research 2018 highlights:
http://www.sussex.ac.uk/internal/doctoralschool/newsandevents/festival
Three Minute Thesis Competition 2018:
http://www.sussex.ac.uk/internal/doctoralschool/researcherdev/threeminthesis/3mt2018
Learning and Teaching Services (LATS)
The LATS department demonstrated how Reading Lists are being integrated into Canvas pages and how tutors can use 'units' to embed individual sections of their online reading lists into the relevant areas of their Canvas sites. In addition to displaying the entire reading list, tutors can easily take one section (i.e. 'Week 1's Readings') and embed amongst their 'Week 1' resources. Initially LATS just supported the use of units for reading lists, but we can now assist tutors in the creation of reading list units that work behind the scenes and link to the 'pages' feature of Canvas instead. Our work with Canvas increases the visibility of the reading lists within module sites and has been adapted over time to reflect tutors' organisational and stylistic preferences in the development of their Canvas sites.
Sussex Humanities Lab
Ben Jackson displayed the following poster and chatted with staff to highlight a selection of the Digital Humanities projects he has been working on during his research fellowship, which is one of the Library's contributions to the Sussex Humanities Lab.
The website https://oldbaileyvoices.org/ shows the work the lab been doing to create a 'Macroscope'
Ben has found this to be the most enjoyable and rewarding post he's held since completing his studies.
Unlocking Our Sound Heritage
Esther Gill writes, "As a new project based at The Keep Archives, we were pleased to be invited to participate in the Library Show & Tell to let people know about what we're doing. We have not yet developed resources or materials about the project, so we brought some of the raw source material: the 84 recorded interviews that comprise part of the British Australian Migration Research Project (SxMOA25)."
The collection explores the experiences of British people who emigrated to Australia in the 1950s and 60s as part of the Assisted Passage Migration Scheme (10 Pound Poms). Visitors to the Show and Tell could listen to some of the recorded interviews, photographs of the interviewees and see the accompanying book: Ten pound Poms: Australia's invisible migrants (Hammerton & Thomson, 2005). The Unlocking Our Sound Heritage project team (Esther, Katie, Natasha, Angela) were also on hand to talk about the project's work to:
digitise archival sound recordings that are at risk of being lost,
raise the profile of sound in archives,
share skills in audio preservation across the archive, heritage and educational sectors,
encourage people to explore, use and enjoy historic recordings.
Unlocking Our Sound Heritage is a three project, so we look forward to further Library Show & Tell events. In the meantime, do follow us on Twitter:
@KeepSounds
http://www.thekeep.info/unlocking-our-sound-heritage-2/
---------------------------------------------------
Demolished Brighton
Andrew Bennett showcased photographs forming part of an archive of photographs taken by the Surveyor's Department of Brighton Borough Council. Most date from the 1920s and 30s but a few were taken in the 50s. It was standard practice at the time to take photographs of buildings before they were demolished – more of the photos are held at Brighton Museum and can be viewed on the Brighton Digital Media Bank website https://dams-brightonmuseums.org.uk/assetbank-pavilion/action/viewHome.
You can find out more by viewing the collection at the Keep: http://www.thekeep.info/collections/getrecord/GB179_AMS7203 - after pressing the link select the Browse by Hierarchy tab and + symbols to see more detailed descriptions (unfortunately the images can't be viewed on the website).
-----------------------------------------------------
Take the Digital Archiving Pledge
Raising awareness amongst library staff about their own digital archives and their care, we focused on photographs as everyone takes lots of these on their phones and devices. We wanted to make people aware of where their photographs live and the fact that you need to be interventionist in their care. Our take away action was to label/describe your photographs every week. This is to ensure that they can be found easily and that information is recorded that others might not know. We also encouraged people to delete photographs they don't need.
We found that lots of people didn't know where their digital photographs ended up but also there were people who were really on it in terms of looking through and moving to a hard disc or creating a book to print out.
-------------------------------------------------------
History of the Digital @ Sussex
The History of IT at Sussex project aimed to collect different strands of oral, digital and physical history to chart the progression of IT and digital technologies in the library from the 1960s to today. There were interviews with current and former members of staff in order to gain contextual information and record staff experiences of IT development (a short video can be found here, podcast format coming later this year). This oral history was augmented by images from deep delves into the G Drive archives and digital histories from the Wayback Machine, which allowed us to show old instances of the University and Library websites. We also had the old Talis server on display, along with the check digit calculator and some FORTRAN punch cards from the 1970s. We were very pleased to welcome former Chief Librarian Adrian Peasgood and former Systems Librarian William Alexander to the library to attend the Show and Tell session.
More info: http://www.sussex.ac.uk/library/test/history-it-sussex
---------------------------------------------------------------
Aspire Audit Project
Over the Summer of 2018, 49 Higher Education institutions and a range of suppliers developed and took part in the Aspire project to audit the quality of accessibility information available from publishers and ebook platforms. A group of 8 staff from different sections of the University of Sussex Library took part in the Aspire project, by reviewing the accessibility statements of publishers and platform providers. The Aspire strategy group created a very thorough guidance document to identify the most useful types of information that could be included in an accessibility statement in order to help colleges and universities meet student needs. When we carried out an audit, we completed an online form that was based on these ideal requirements for accessibility statements, for example; does the accessibility information state which format publishers' files are provided in and advice on any software required? I think we all found the audit very worthwhile, not only in contributing to the national project but also in deepening our understanding of accessibility issues and how we can better support students with print impairment in accessing the content they need. The ASPIRE (Accessibility Statements Promoting Improved Reading Experience) Project page tells the story of the project from the beginning and includes the background to the project, the findings and views from the perspective of the Library, the Supplier and the Student.
ASPIRE Audit Project page - https://www.learningapps.co.uk/moodle/xertetoolkits/play.php?template_id=1856