Sussex named best university in UK for student mobility in new international rankings
By: Neil Vowles
Last updated: Friday, 16 July 2021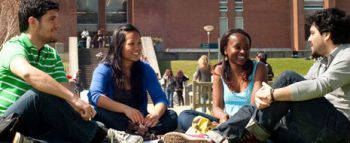 The University of Sussex is the best performing university in the UK in supporting the mobility of its students – and is among the top ten in the world, new rankings show.
The University has been ranked 8th in the world for student mobility and openness by the World's Universities with Real Impact (WURI) 2021 Rankings.

Sussex is the only UK university in the world's top 50 for student mobility, which the newly released rankings identify as an encompassing an open system of exchange and collaboration between universities and across national borders.
The WURI rankings also placed the University of Sussex as the third most innovative university in the UK – behind only Oxford and Cambridge.

The University was placed 37th for the WURI 100 most innovative universities – one place ahead of Yale University in the United States.
Brighton and Sussex Medical School was named 38th globally in the same rankings in the category of industrial application.

Oxford and Cambridge were the only other UK institutions to rank higher than the medical school which is a partnership between the Universities of Sussex and Brighton together with NHS organisations throughout the South East region.

Professor Richard Follett, Deputy Pro Vice Chancellor and Associate Vice President (International), said: "We are immensely proud to be recognised as a national and global leader in student mobility and innovation in the HE sector.
"We have a reputation as an institution with a distinctly global outlook and internationally focused.
"We believe our students benefit from being part of a global network. We provide study and work opportunities around the world and, likewise, welcome thousands of students from around the world every year to Sussex.
"It is our vision for the future of the university to create more international leadership opportunities and to give even more of our students the opportunity to have an international experience during their time at Sussex."

WURI say their rankings are not based on tradition, reputation, or popularity, but rather focused on concepts such as innovativeness, entrepreneurship, responsibility, openness, and crisis management.
The ranking founders add that their system is designed to highlight and appreciate the efforts of universities to produce a future workforce aligning with the growing demands in contemporary society.
Each of the five categories are evaluated based on three criteria; innovativeness, implementability and impact. University applications are evaluated and scored in a blind review process.