Toy makers circle as student designers hit on new craze
By: James Hakner
Last updated: Friday, 23 September 2016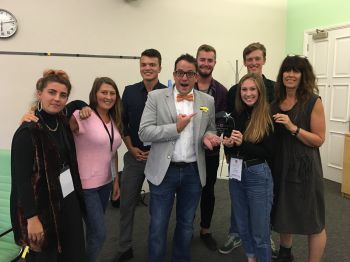 Major toy manufacturers are in early talks with product design students at the University of Sussex over bringing to life their prize-winning idea for the next big campus craze.
Inventors from Hasbro and Big Potato Games were so struck with the students' idea – which won the Hackfest at the 2016 Inventors Workshop in Northamptonshire this week – that they have invited the team to pitch the idea to them again with the possibility of bringing it to market.
Because of the commercial interest, the exact details are being kept under wraps for now but Diane Simpson-Little, who runs the BSc Product Design degree at Sussex, says that, like all the best games, her team's is simple and accessible. She said: "In a short space of time, they came up with a very simple but ingenious solution that I could see becoming a craze at universities around the world.
"Their nerve-wracking presentation pitch to a team of judges from the toy industry was well communicated and fun and they received some excellent feedback."
The Inventors Workshop has been described as the X Factor of toy design, giving student designers the opportunity to show what they can do in front of industry leaders.
Their brief this year, set by toy designer Richard Heayes, was to design the next campus craze that is accessible for all. They were given just three hours to come up with their idea and develop a marketing strategy, a basic prototype and future goals.
Richard said: "The students were asked to develop an analog experience, ideally at sub-£10 retail that could become a craze amongst students, but one that could also translate to younger teens.
"Sussex students demonstrated great team work to develop a simple, fun product that really met
the brief in under three hours.
"They had clearly considered how to make the product viral and it played into the sharing and viral nature of digital content but with a physical analog object."
Dean Tempest, founder of Big Potato Games, was the Sussex team's mentor. He said: "I was massively impressed with how quickly they came up with such a strong product idea.
"Often people stop at the idea but they were also able to create a genuinely unique proposition for the brand as well.
"Overall they were brilliant, I knew they'd win!"
One of the Sussex students, Lucy Hughes, said: "It was amazing to work with mentors in the industry. It allowed me to have a taster of what methods they use for development and generating ideas."
Team-mate Tristan Kermode said: "The design process and prototyping was rushed but allowed us to really focus on what the brief meant.
"Overall the day was a great learning experience, topped off by us winning, which you really can't beat!"
This is the second year in a row that University of Sussex students have won the Inventors Workshop Hackfest. Diane Simpson-Little, who also gave a talk on the day, added: "The pressure was on for us to defend our title and, although we had some tough competition, my students worked brilliantly as a team."
The triumph tops a remarkable year for the Product Design team at Sussex, after students picked up awards for their final-year designs from LEGO, Not On The High Street, and the Knowledge Transfer Network in the summer. Graduates of the course are now working for companies such as Dyson or bringing their own products to market.