News
Marking Black History Month - Sunday 1 October to Tuesday 31 October 2023
Posted on behalf of: EDI Unit
Last updated: Thursday, 12 October 2023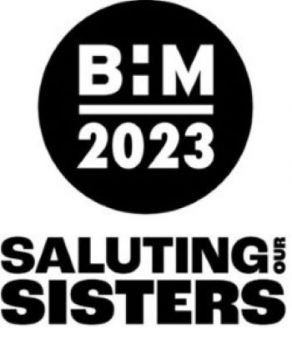 What is Black History Month?
Black History Month is celebrated annually, and every October in the UK. It is a month about acknowledging the stories and the heroes that are a part of history, but have not routinely been recognised within education and society.
During Black History Month, activities and information are shared to promote knowledge of Black history and experiences, to circulate information about the contributions that Black people have made to society, and to raise awareness Black culture and heritage.
Click here for the official website for Black History Month which is packed with great information and resources including information about this year's theme 'Saluting our Sisters'. The theme aims to acknowledge and celebrate the experiences and work of Black women.
The University of Sussex has planned a programme of events on and off campus, to celebrate and acknowledge Black history and the Black experience. Events will include a poetry workshop, film screenings, discussions and a walking tour of Brighton. The Black History Month flag will also be flying above Sussex House for the duration of the month to show our visible solidarity.
What's on?
Thursday 28 September: Black History Month kicks off on campus with an evening of poetry and discussion. The event entitled 'The Power of Poetry and Living Libraries for Decolonial Dialogue" is being held by Library Services and the funding board RLUK. Special guests include alumni and acclaimed poet Jenny Mitchell, and Brighton-based poet, multi-modal artist, and Stuart Hall Fellow Erin James. Get your tickets here.
Friday 6 October: A walking tour of Brighton for Black students run by the Students' Union. The tour will take Black students to a range of spots including charities, hairdressers, eateries and Black-owned businesses. The tour culminates with a visit to the Afrori Bookshop where the Black@Sussex Lead will be joining. Learn more about the event and sign up here.
Tuesday 17 October – Sunday 19 November: A free exhibition of photography by Charlie Phillips and Eddie Otchere, commissioned by the University for Black@Sussex will be taking place at the Attenborough Centre for Creative Arts. Charlie has been documenting Black British life since the late 1950s while Eddie emerged as a photographer during the 1990s with images of the jungle music scene in London and the hip-hop scene in New York. More information here

Wednesday 18 October: A film screening of the independent film Rafiki (2018), open to staff, students and visitors. The Kenyan-made film explores the lives of two young women exploring their sexuality and identity amidst familial, cultural and political pressures in Kenya. To hear more about the screening and to register your attendance click here.
Tuesday 24 October: Exploring Anti-Colonial Figures in Health – a free event run by Brighton and Sussex Medical School (BSMS) open to all staff and students. What do radioactive chapatis and Black maternal health outcomes have in common? Join Annie from the anti-colonial campaigning group Speaking Statues to find out more, on a journey into the past and present of England's healthcare system. For further details and to register your attendance click here
Wednesday 25 October: The History Society will be celebrating and raising awareness of Black History Month with a film night. The screening will be open to members and visitors, who will be able to view Hidden Figures (2016), a film based on the real-life events of three African-American female mathematicians who provided a huge contribution to NASA during the Space Race. Contact The History Society for more information here.
Resources
Union Black Antiracism Programme
Following its pilot and launch in 2022, the Union Black Antiracism Programme continues to be available for all staff and students. The programme provides the opportunity to complete either a 1-hour or 6-hour online course designed to tackle racism within Higher Education. The Union Black programme provides useful tools and information to discuss structural racism, identities and how to contribute to the antiracism agenda. You can find details of the course on our OD pages here: Understanding Black British History : Online learning : Organisational Development : Schools and services : University of Sussex
We also have a useful step-by-step sign up guide to help you access the course here.