News
Ramadhan Kareem (Happy Ramadhan) from the University of Sussex
Posted on behalf of: University of Sussex
Last updated: Monday, 12 April 2021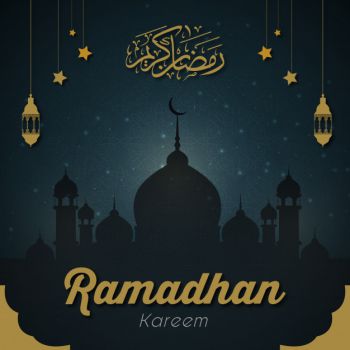 Tonight (12 April) marks the first night of the holy month of Ramadhan, a month in which Muslims across the world will be observing fasts from sunrise to sunset. Fasting is one of the five pillars of Islam, and is prescribed for all Muslims barring those who are unwell, elderly, pregnant, travelling or otherwise unable to do so.
For many, this period aims to be a space for showing gratefulness for all we have, and a space for reflection in individual habits and bettering our characters.
Normally, during Ramadhan, Muslims across the world make it a priority to frequent the mosque with additional nightly prayers (Taraweeh), praying the Quran and taking part in charitable causes.
This Ramadhan, with restrictions in place because of Covid-19, will look very different for Muslim students and staff at the University, as well as in the local community.
With the late-night prayers (Taraweeh), pre-dawn meal (Suhoor) and prayers (Fajr), it is likely that staff will have disrupted sleeping patterns. Muslim members of staff will probably have been fasting for years and may be able to continue with their usual daily routine. However, please consider whether some staff may request alternative working hours and try to accommodate them where possible. Muslim staff may choose to work through a lunch break and finish the day earlier to make preparations for breaking the fast (Iftaar) or may request to begin working later in order to get a longer period of sleep after sunrise. Where possible, please make every opportunity to accommodate these requests.
For some, the morning may be better for longer meetings, as the effects of the fast will be felt more strongly as the day goes on; so please consider moving team meetings to earlier in the day and allow the afternoon for routine tasks.
We would advise line managers to have open conversations with Muslim staff, to better understand how you can support them during the month rather than imposing measures without speaking to them. This is to ensure Muslim staff do not feel heightened attention or a disruption in team dynamics which may negatively impact them.
Unlike last year, Muslim students and staff should be able to access communal prayers - albeit socially distanced - which will no doubt lift their spirits. However, the usual Ramadhan activities of communal meals, family get-togethers and spending time in the mosque will be impacted by the pandemic, so please be attentive to the needs of students and staff.
Likewise, this Ramadhan may be the first when families have empty seats around the dinner table due to losses to Covid; the month of Ramadhan often is a period when many frequent themselves in prayer on behalf of those no longer with us. The Office for National Statistics released statistics showing that Muslim communities have had a higher mortality rate involving the virus than other religious groups and those with no religion, so be attentive to the needs of staff and students who may have experienced the loss of loved ones throughout the year and want to spend more time in prayer and reflection.
It is likely that Muslims will need to have a Covid-19 vaccination or take a PCR or lateral flow (LFD) test during Ramadhan. The British Islamic Medical Association have advised that Muslims should not delay their vaccinations on the account of Ramadhan and that PCR and LFD tests do not invalidate the fast. Staff and students who are on campus to work, study or live can book an LFD test in the Sport Centre.
Staff or students breaking fast alone may wish to join the Ramadan Tent Project's Open Iftar, which will bring people together online to listen to speakers, interact with others and listen to the call for prayers before people break fast together virtually.
Towards the end of Ramadhan (and in particular, the final 10 days and Eid-Ul-Fitr, which marks the end of Ramadhan), Muslim members of staff may request annual leave for a number of days. The last 10 days are days in which Muslims traditionally frequent themselves in prayer and remembrance of god, and Eid is a celebration that brings the family together. Where possible, these requests should be accommodated, provided staff have annual leave.
From the University of Sussex, Ramadhan Kareem to all of our staff and students to the wider Muslim community across Brighton and Hove.