News
World Autism Acceptance Week (27 March – 2 April)
Posted on behalf of: EDI Unit
Last updated: Friday, 31 March 2023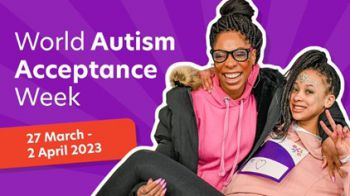 Autism is a lifelong developmental disability which affects how people communicate and interact with the world. More than one in 100 people are on the autism spectrum and there are around 700,000 autistic adults and children in the UK. You can find out more about autism and how it affects people in different ways here What is autism
World Autism Acceptance Week aims to contribute towards creating a more inclusive world where autistic people are accepted in society and are able to live a life of choice and opportunity. The theme for 2023 is colour and the National Autistic Society have created a Spectrum Colour Fundraising Challenge to help raise money to support its many initiatives. More information and how to get involved can be found here Spectrum Colour Challenge
Upcoming Events and Activities
The School of Psychology are hosting an event run by the Autism Community Research Network Sussex ACoRNS to start a conversation about how the University of Sussex could be more autism-friendly. The event is taking place at the Meeting House on Thursday 27 April from 5pm until 7pm. For more information and to book onto the event please visit: An Autism-Friendlier University? Initiating the Conversation
The School of Psychology are also involved in an ongoing research project working in collaboration with autistic students to look at the learning experience of autistic vs non-autistic university students. They are now calling for more students to take part. For more information about the project, the initial research findings and how students can get involved please contact Dr Sophie Anns
Brighton and Sussex Medical School (BSMS) and the School of Education and Social Work are hosting a talk on neurodiversity by Tre Ventour-Griffiths on Tuesday, 16 May. Times and venue to be confirmed shortly and will be publicised on the BSMS events listing page https://www.bsms.ac.uk/about/events/index.aspx
Support for Staff:
The Neurodiversity Staff Support Network was established last year and aims to support staff who have either been diagnosed with a neurodivergent condition(s) or suspect that they may have a neurodivergent condition(s); including but not limited to ADHD, Autism, Dyslexia, Dyspraxia and Dyscalculia. The Network operates and meets predominantly through Microsoft Teams where staff are able to connect with each other, share helpful resources and provide peer support. The Network also provides a mechanism for the provision of feedback ensuring that the University is understanding of the needs of our neurodivergent staff community.
If you would like to join the Network or would like further information about the Network please e-mail the EDI Unit edi.unit@sussex.ac.uk.
Support for Students:
Information for students is available on the Disability Advice page and the Student Hub for health, support and wellbeing services available at Sussex.
The Disability Team provides confidential information and advice to current and future students on disability-related study support and accessing disability-related funding.
Students can also find out more about reasonable adjustments for teaching, exams, and assessments.
Further Information, Resources and Support can be found here:
National Autistic Society (autism.org.uk)
World Autism Acceptance Week 2023 – Healthwatch East Sussex
About ACoRNS - ACoRNS Sussex (acorns-sussex.org.uk)