New Digital Methods Accelerator Programme
By: Elena Dennison
Last updated: Monday, 25 September 2023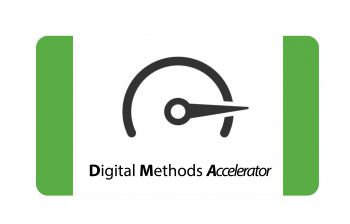 Alongside the success of the Sussex Digital Humanities Lab as a new Centre of Excellence, we are delighted to have received an award from Sussex' Strategic Development Funds to develop a Digital Methods Accelerator programme for Humanities and Social Science Research (DMA).
The new DMA programme will be developed in the autumn term (2023-24) and will help deliver Sussex's 2025 strategy for digital literacy to ensure future researchers are able to challenge and succeed in a rapidly evolving digital society.
The DMA programme will comprise a series of digital methods training workshops (2024 – 2026) to help equip Humanities and Social Science (HSS) researchers with the technical skills and insight needed to tackle emerging issues in contemporary society.
The DMA programme aligns with SHL's strategic aims to bolster capacity building in critical digital methods. As such is built around two distinct but complementary tracks:
Track A: Data: Skills related to the data life-cycle - collection, organisation, cleaning, analysis, dissemination, and preservation.
Track B: Beyond Data: Critical, creative, and collaborative skills including creative and critical making and coding, decolonial methods and co-design.
DMA comprises both an events programme and resource kit for PGRs and faculty to develop digital methods skills for HSS research and knowledge exchange, and the programme will support researchers at all stages of their career, with various levels of expertise and experience of applying digital methods.
The funds received (£99,832) will support this programme over 3-years. Dr Ben Jackson, SHL Research Fellow, will lead this work, and will be supported by a series of Peer Trainers and Community Advocate consultations to ensure we deliver a programme that is diverse and inclusive.
We are at a critical juncture in society. As such our new DMA programme will address the need to equip Sussex researchers with critical digital skills for research. The next generation of digital projects requires an understanding on the part of Humanities and Social Science (HSS) academics of new cutting-edge techniques and technologies in such fields as machine learning (e.g. Large Language Models), automated image analysis, text digitisation, GIS, open- and crowd-sourced information gathering, algorithmic listening and many others. Academics in HSS disciplines need a deep understanding of what these techniques and technologies can do and how they might be applied to their own research domain.  
The programme will begin preliminary scoping in the upcoming academic term – watch this space for more details.
For any questions, please contact shl@sussex.ac.uk