Career Equity Project Tackles LGBTQ+ Representation in STEM
By: April Yeatman
Last updated: Thursday, 6 October 2022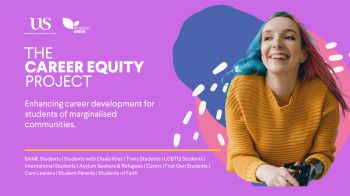 The Career Equity Project is a partnership between the Sussex Students' Union and Careers and Entrepreneurship which focuses on giving additional career support to students from underrepresented communities.
As part of this project, an event for LGBTQ+ people in STEM (Science, Technology, Engineering, Maths) fields is taking place on Tuesday 11 October. The diversification of scientific fields has been significantly slower than standards in other industries. It is estimated that the representation of LGBTQ+ people in STEM is about 20% lower than expected. In response to this, the Career Equity Project (along with the support of the School of Engineering and Informatics) decided to provide LGBTQ+ specific careers advice to STEM students.
The event 'LGBTQ+ In Stem Industries' will take place on Tuesday 11th October 2022, 11:00am - 12:00pm, online via Zoom. In this informal session students will hear from LGBTQ+ professionals from STEM industries who will discuss their career timeline, education experience and how to feel confident about identity in the workplace. The speakers work across a range of STEM industries (S&P Global, Pride in STEM, 3M, Code First Girls) so there will be a wide range of experiences to discuss that will be of interest to students at any level of study and from any STEM discipline.
April Yeatman, one of the event organisers, said: "I'm really happy to have been part of making this event happen, and to see the support provided by the University and Student's Union to help students of all identities achieve their career goals."
April is a Graduate Associate at the School of Engineering and Informatics and the lead for LGBTQ+ on the school's EDI committee.