Professor David Weir joins Sussex Digital Humanities Lab's Team of Directors
Posted on behalf of: Sussex Digital Humanities Lab (SHL Digital)
Last updated: Thursday, 14 September 2023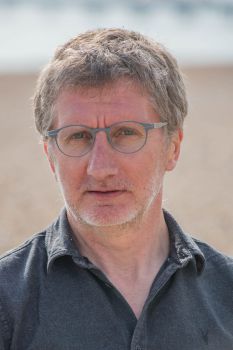 SHL Digital is pleased to announce that Professor David Weir has become a Co-Director of the Sussex Digital Humanities Lab. David, who holds the position of Professor of Computer Science, has been a longstanding member of SHL Digital and has played a significant management and leadership role. He has previously served as Co-Director during the tenures of both Professor Caroline Bassett (2015 – 2018) and Professor Tim Hitchcock (2018-2021) and is a valued member of SHL Executive.
The decision to include David in SHL Digital's team of Directors, which also comprises Dr. Alice Eldridge, Dr. Ben Roberts, and Dr. Sharon Webb, was prompted by the University's restructuring of research programs and centres. As part of this restructuring, SHL Digital, along with research programmes such as SSRP, was granted 'Centre of Excellence' status. Importantly, Sussex AI also received this recognition. Therefore, in order to promote and bolster continued collaborations between the two centres, David will take on a crucial role.
Commenting on this appointment, Sharon says:
"we find ourselves at a crucial juncture concerning AI and its impact on society, encompassing both its potential implications for humanity and its evident environmental consequences. By fostering closer and more strategic partnerships between Sussex AI and SHL Digital through David's appointment, we can collectively address these significant issues".
The Sussex Digital Humanities Lab (SHL Digital) and Sussex AI are two of the twelve Centres of Excellence at the University of Sussex. Founded in 2015, SHL Digital investigates the interactions between computational technology, culture, society, and environment. Working under the banner "Impossible Until It's Done" Centres of Excellence draw together world-leading experts and innovative approaches, creating a critical mass of knowledge, skills, and training.
For more information contact shl@sussex.ac.uk or visit www.sussex.ac.uk/shl