Sussex Digital Humanities Lab: same Lab, slightly different name
By: Elena Dennison
Last updated: Thursday, 7 September 2023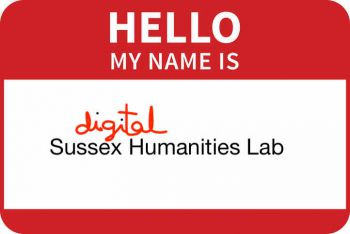 Last month the University of Sussex announced 12 new Centres of Excellence at a reception in House of Commons at Westminster hosted by Caroline Lucas (MP). We are proud to be counted as part of this new cohort of flagship centres which 'carry out innovative and world-leading research'. The application phase for Centres of Excellence provided time to reflect upon the way in which our name, Sussex Humanities Lab, works or doesn't work for our members, networks, and associated schools and departments.
New name following wide consultation.
Following consultation with core members and various heads of school, we have added 'Digital' to our name to emphasise our shared interest in the impacts and opportunities associated with digital transformations in culture and society. Addressing these changes requires interdisciplinary research and we see the increasing use of digital methods and scholarship as an opportunity for the humanities to interact in new ways with other disciplines; Sussex Digital Humanities Lab creates a space to nurture those interactions at Sussex.
For simplicity's sake – and to emphasise continuity with a successful past – the short form of our name will now be SHL Digital.
SHL Digital: same lab

beyond a mere technological space

.
Although we are now formally a Centre of Excellence, we have retained the word 'Lab' in our title. This was a deliberate and essential choice, illustrating how SHL Digital is experimental, practice based and centred on collaborative work and methods. For us, a 'Lab' extends beyond a mere technological space. SHL represents the community of diverse individuals which occupy it.
Our name change, we hope, reflects more accurately our community and our cross-campus, multidisciplinary nature. SHL Digital will continue to investigate the interactions between computational technology, culture, society, and the environment, working towards more sustainable and just futures for all.
For more details on our current research please visit our webpages.
For any questions, please contact shl@sussex.ac.uk