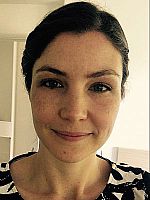 Ms
Victoria Louise Kasprowicz
Biography
My PhD explores the gender-energy nexus, observing and studying energy practices as a proxy for understanding gender relations within newly electrified homes. This work aims to include research with customers accessing electricity through solar home systems in Guatemala and Colombia.
Prior to joining the University of Sussex, from 2013-2016 I helped to create and run a social enterprise called Kingo that provides a prepay solar energy service to low-income, non-electrified communities in Guatemala and Colombia. I was one of the original three directors when the company was founded and was responsible for Kingo's internal and external communications, contributing to its overall business strategy and helping to set up and manage its first regional office in the North of Guatemala.
During my time in Guatemala I also completed an MSc in Development Management with the Open University and worked with the Guatemalan Human Rights Commission to support the needs of human rights defenders for my final thesis.
Qualifications
2011 - 2014: MSc Development Management (Distinction), The Open University
Thesis: Approaches to Understanding and Addressing the Needs of Human Rights Defenders in Guatemala - in collaboration with the Guatemalan Human Rights Commission
Modules: Context and practice; War, intervention and development; Capacities for Managing Development; International Law, Institutional Development.
2001 - 2004: BSc Hons Psychology (2:1), University of Southampton
Thesis: Familiarity and the race-effect in facial recognition
Modules: Biology, Statistics, Behavioural Neuroscience, Developmental Psychology, Social Psychology, Language and Memory, Perception, Clinical Psychology.