Business School news
Read news relating to the University of Sussex Business School.
---
Innovative accounting research on workplace democracy receives Leverhulme Trust funding
By: Cosmo Rana-Iozzi
Last updated: Monday, 8 August 2022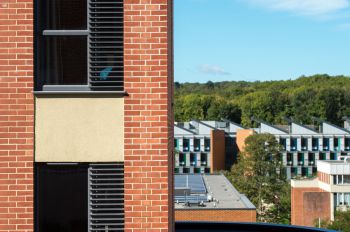 In a major success for the University of Sussex Business School's Accounting and Society research mobilisation group, the University has been awarded funding from the Leverhulme Trust for research into "Understanding workplace democracy through corporate and employee disclosure". One of the largest academic research funders in the UK, the project is a notably exceptional example of the Trust's support for research in business and management studies.
Starting in September 2022, the year-long project will be led by Dr Galina Goncharenko, working with other mid- and early-career researchers (Dr Siwen Liu and Dr Sami Adwan) in the Department of Accounting and Finance, and Dr Tobias Polzer at WU Vienna's Institute for Organization Studies.
Combining a range of expertise from accounting and business ethics to corporate governance and digitalisation, the team will set up a Workplace Democracy Lab (WLD) to explore contemporary debates on workplace relations and investigate how perceptions of workplaces can help predict corporate outcomes.
The project is a timely opportunity to deepen academic and societal understanding of workplace democracy and employee empowerment in our digital and social media age. In particular, it will seek to address the lack of consensus in both scholarly and wider public discourse about what 'workplace democracy' means in our present market economy, bringing thus far under-studied accounting and finance perspectives to this debate. Recognising the unavoidable public role of the online digital realm, the research will draw on a vast archive of real employees' lived experience of workplace relations provided by such professional social media outlets as LinkedIn and Glassdoor UK.
Building on the School's and University's strong commitment to research with impact, the research will explore the scale and nature of workplace democratisation through employer and employee discourses, with the ultimate aim of changing organisational practice for the better. As Dr Galina Goncharenko writes, on leading the project:
As significant creators of corporate value, employees expect a respectful and inclusive workplace environment. Companies have been showing renewed interest in employee engagement and involvement for organisational success. However, there is still a lack of understanding on what makes workplaces democratic, how much democratisation is enough and how democratisation ultimately impacts organisational performance.
As a young and ambitious team of accounting and organisational scholars, we were thrilled to learn that the Trust recognises the potential of our project to advance accounting (and wider business and organisational) research towards a deeper understanding of workplace democracy, employee involvement and employee perceptions of workplaces.
The team aspire to not only equip organisations' managers and investors to respond to the challenges of advancing democracy and inclusivity in workplace settings, but also engage and enable regulators, policymakers, employee associations and trades unions to participate in this important cultural shift.
Further information: https://www.sussex.ac.uk/business-school/research/centres-projects/workplace-democracy
---
You might also be interested in: