Summer graduation inspires a new generation of Sussex graduates
By:
Last updated: Thursday, 4 August 2011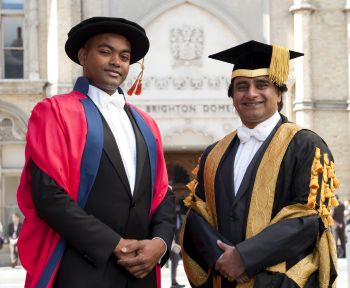 A record-breaking number of students' families and friends packed the Dome for University of Sussex Graduation, making last week's Brighton Dome ceremonies the hottest ticket in town.
In a show of unprecedented demand, all guest tickets were snapped up within two hours of going on sale for four out of the five ceremonies at the Brighton Dome on Wednesday, Thursday and Friday (20-22 July).
And in the tradition of sell-out shows, the three days of celebration featured a rousing welcome from the master of ceremonies, University of Sussex Chancellor Sanjeev Bhaskar, and a cast of star performers.
The star turns came courtesy of 2,335 graduating students and five honorary graduates, all leaders and groundbreakers in their fields, including legendary guitarist Jeff Beck (the Yardbirds, the Jeff Beck Group), who was made an honorary Doctor of Music for his services to the music industry and continuing support of music students and to Lance Corporal Johnson Beharry VC, who was made a Doctor of Engineering for his unstinting support of engineering students at Sussex.
Honorary graduate and rock legend Jeff Beck (who was made a Doctor of the University at Thursday afternoon's ceremony) expressed his delight at receiving an honour from the "child prodigy" of universities and exhorted his fellow graduates to "follow your dream", even in tough times.
Lance Corporal Johnson Beharry VC was similarly inspiring when he related his story after being made Doctor of Engineering at Friday morning's ceremony. He added afterwards: "There have been two special moments in my life - getting the Victoria Cross, and second, receiving an honorary degree from the University of Sussex."
Around 8,000 graduating students, family members and friends attended in person while hundreds more watched on a giant screen erected in the adjacent Corn Exchange as the students collect their degrees.
Ninety countries were represented, from Afghanistan to Zimbabwe and from all points in between.
The honorary degrees were awarded to:
Groundbreaking guitarist Jeff Beck, whose stellar career includes six Grammy awards and the rare honour of being inducted twice into the Rock and Roll Hall of Fame;
Soldier Johnson Beharry VC, who was awarded the Victoria Cross for "repeated extreme gallantry and unquestioned valour" during a military operation in Iraq in 2004
Economics Professor David Blanchflower, who was an external member of the Monetary Policy Committee at the Bank of England from 2006 until 2009
Artificial Intelligence expert Geoffrey Hinton, a Sussex alumnus
Gastroenterologist and expert in coeliac disease Professor Parveen Kumar, who, in 2000, was made a CBE for services to medicine.
The 2,335 graduating students included:
Katie Birks, Bethany Whatling, Alexander Bruno, Danny Baker, Matt Pellant, Charlotte Romer, Adam Alexander and Fernand Frimpong - a team of media, film and informatics students who took time out to make a film taking a nostalgic look at life at Sussex for the graduation ceremonies;
Eminent scientist and Professor Norman Billingham, who crossed over to the art side in retirement to study literature and the creative arts;
Top-scoring history student Owen Emmerson, who interviewed Lord Montagu of Beaulieu for his dissertation;
Father and son Dr Neil Munro and Harry Munro, who will be graduating at the same ceremony;
Student of English Rebecca Partos, whose passion for politics has led to a new career in research;
Neuroscience student and University sporting star Richard Lynch, who helped to coach Brighton youngsters in his spare time;
Bruce Warwick, the third of three siblings to graduate from Sussex
Toni Griffiths, the third generation of her family to graduate from Sussex
Video of the five ceremonies will be available to view again on the Sussex website - go to www.sussex.ac.uk/graduation/videos
University of Sussex Press office contacts: Maggie Clune and Jacqui Bealing. Tel: 01273 678 888. Email: press@sussex.ac.uk
View press releases online at: http://www.sussex.ac.uk/newsandevents/
---
Notes for Editors