Coronation Foodie Celebrations on Campus
By: James Robinson
Last updated: Thursday, 27 April 2023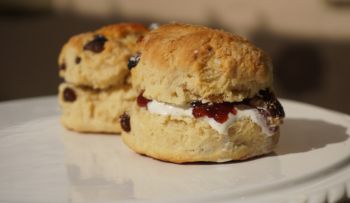 We're always looking for an excuse to celebrate with food here at Sussex, and the King's Coronation is no exception! Starting from Tuesday 2 May we have some very exciting, limited time only specials coming to campus. Read on to see how to get your coronation foodie fix.
2 – 12 May: Coronation Specials menu serving off the counters in Eat Central
We wanted to highlight local British produce alongside the comforting classics we all know and love. Each meal will be £5.95 every day. Week one's menu is:
Tuesday 2 May
Local Butchers Sausages, Mash, Peas & Onion Gravy, Served in a Giant Yorkshire Pudding
Wednesday 3 May
Roast Chicken, Thyme Roast Potatoes, Carrots, Cauliflower Cheese & Gravy
Thursday 4 May
Beef Stew, Herby Dumplings & Savoy Cabbage
Friday 5 May
Sussex Beer Battered Fish, Chips, Peas & Tartare
4 May: Royal Sussex Afternoon Tea Experience
We thought what better way to celebrate King Charles III's coronation than the quintessentially British tradition of Afternoon Tea. We are bringing you a very special experience right here on campus for one day only, three-tiered stand n'all. You can choose one of three locations (Dhaba Lawns, Botanical Courtyard or Arts Picnic Area), and we will set up a picnic table for you either outside (weather permitting), or inside the nearest cafe.
Menu
Choice of sandwich: Coronation Chicken, Smoked Ham & Egg or, Egg Mayo
The Official Coronation Quiche: Homemade with Spinach, Broad Beans, Cheese and Tarragon
Scone: with Roddas Clotted Cream & Tiptree Jam
Coronation Cupcake: Piglet's Pantry Cupcake with Cute Coronation Decoration
Hot Drink: Your Choice of Tea or Coffee
This is a prepaid ticket, including table reservation, service and all food listed above for just £9.50. Enjoy the up-market British tradition without the price tag!
2 – 5 May: Grab & Go Afternoon Tea Box
Taking the average meal deal to the next level! Our afternoon tea boxes will have the official coronation quiche, scone equipped with clotted cream & jam, a special coronation cupcake, any sandwich you fancy out of the fridge and a cup of tea for just £7.50. Head out onto the grass and enjoy a picnic in the sun!
2 – 5 May: Coronation Quiche
The (slightly controversial) official recipe released by the royal family for the King's Coronation. The quiches are all freshly made in house with spinach, cheese, tarragon, broad beans and egg. Try the recipe that's split the nation (without having to make it yourself). The quiches will be available in all Sussex Food cafes for £2 leading up to the coronation.
2 – 5 May: Coronation Cupcakes
We'll be selling cute coronation themed cupcakes for £2 across all cafes. The cupcakes come from Piglet's Pantry, a family-run bakery down the coast in Worthing!
You can keep up to date with everything food related on campus, as well as see photos of the delicious food on offer on Instagram: @sussexfoodie