University celebrates real-world impact of Business School research
By: Ruby Scott
Last updated: Friday, 24 June 2022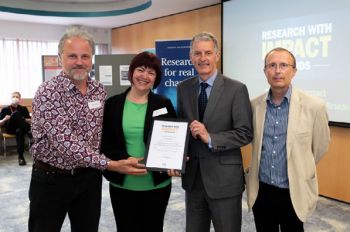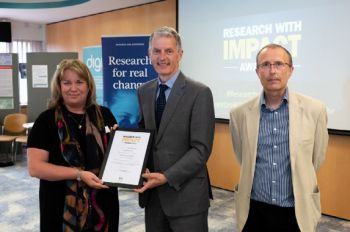 Business School staff scooped two awards at the University's recent Research with Impact Day. The awards, worth £1,000 each, are designed to help the winners pursue their impact development activities.



Interdisciplinary collaboration supports farmers in Syria
The winner of the Ongoing impact through interdisciplinary collaboration category was Dr Mirela Barbu, Senior Lecturer in Logistics and Supply Chain Management. Dr Barbu worked with Prof Martin Spinelli (MAH) to produce the first series of podcasts on agricultural practices and techniques delivered in a conflict zone.
The Sussex researchers collaborated with the Syrian Academic Expertise NGO and the Council for At-Risk Academics (Cara) on the Agricultural Voices Syria (AVS) project. By combining their expertise in podcasting, global value chains and agricultural practices, they aim to use podcasts and other digital services to connect Syrian sustainable agriculture experts with farmers and agricultural operators in northwest Syria. The team is now working to enhance local networks and promote AVS as a broader communication platform for local and international actors working to achieve food security and improve livelihoods in northwest Syria.
On receiving the award, Dr Barbu said: "We are thrilled with this achievement. Doing interdisciplinary research is challenging but very fulfilling; it makes everyone think outside the box, and collectively we have learned a great deal. It is difficult for a single researcher to address real-world challenges alone; impactful work fosters collaboration and mutual respect. This is important to break down divisions, reduce inequalities and create a global academic community able to tackle common goals."
The award will allow the team to organize a stakeholder workshop in Gaziantep, Turkey, and to explore the opportunity of opening an SSRP Sustainability Observatory in Gaziantep to collect scientific data in northwest Syria. These data are necessary to inform extension services for farmers and to monitor progress towards achieving the Sustainable Development Goals.


Improving the delivery of major government projects
Dr Rebecca Vine, Lecturer in Accounting, won the award for Ongoing impact (Early-Career Researchers) for her work as co-investigator on the ESRC-funded Project X: Improving Delivery. All government policy is delivered through project structures and Dr Vine's research examines the performance of the UK Government's £600bn+ major project portfolio, which typically suffers from severe delays and overruns.
Dr Vine was the PI of the ESRC IAA award that set up the Project X governance structure. This has fundamentally transformed how the UK Central Government collaborates with researchers, as evidenced by the Cabinet Office Areas of Research Interest, which are based on Project X's research questions. Dr Vine's research into control capabilities has already led to new capability frameworks and career pathways for 16,000 government project delivery professionals.
"I am truly delighted that this award celebrates the unique model of impact that we have developed on Project X and the importance of empowering a next generation of scholars to tackle the complex problems facing major projects and the delivery profession over the next 30 years," commented Dr Vine.
The prize money will support further work towards the transformation of project performance for greener and more balanced growth through the UK Government's Transforming Infrastructure Performance (TIP) Policy. Specifically, it will support a suite of events and engagement activities with central government policy implementation teams and ongoing engagement with the ESRC to disseminate Project X's unique impact model.


Find out more
University of Sussex Research with Impact Day

Agricultural Voices Syria

Project X