Global Studies Professor awarded prestigious Royal Geographical Society Honorary Fellowship
By: Maria Andreou
Last updated: Friday, 6 May 2022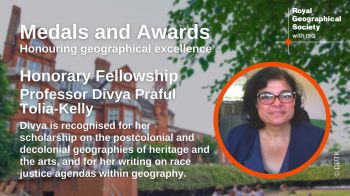 Divya P. Tolia-Kelly, Global Studies Professor of Geography and Heritage Studies, has been awarded an Honorary Fellowship of The Royal Geographical Society (with the Institute of British Geographers) (RGS/IBG), for her outstanding support for Geography, and 'in recognition of her scholarship on the postcolonial and decolonial geographies of heritage and the arts, and for her writing on race justice agendas within Geography'.
The Royal Geographical Society is the UK's learned society and professional body for Geography, advancing the field and supporting geographers in the UK and across the globe. This year, the Society's medals and awards recognise 23 different people or organisations for their outstanding contributions to geographical research, fieldwork, teaching, and public engagement.
Professor Tolia-Kelly's research has three strands: (i) postcolonial politics of memory and heritage (ii) cultural geographies of race and representation through visual and material cultures (iii) postcolonial landscapes, migration, memory, and identities.
Divya has a keen commitment to praxis and hence is committed to extending her research on 'race' to the everyday environment of HE – working towards a truly universally inclusive place to work, research and write. She is also the Chair / Convenor of the School of Global Studies' BAME Coaching and Mentoring Network, which seeks to enable BAME and women staff, researchers and postgraduates across academia to access equality of opportunity and support.
Professor Tolia-Kelly said:
'Wonderful to be awarded in recognition of my work and contribution to the discipline. Thanks to the support of my brilliant colleagues at Sussex.'
Head of the School of Global Studies Professor Harrison said:
'Congratulations to Divya for this richly deserved recognition of her work as a scholar and as a leading advocate for mentoring and support in the School and the wider University.'