The Kindness Test
Posted on behalf of: kindness@sussex.ac.uk
Last updated: Tuesday, 8 March 2022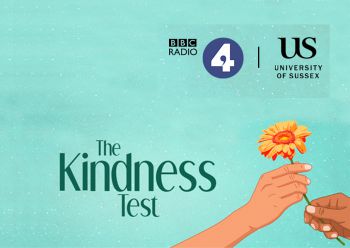 The Kindness Test project was led by a team of researchers in the Sussex Centre for Research on Kindness, based at the University of Sussex, in partnership with BBC Radio 4. The aim is to learn more about how people's attitudes and experiences might vary across different groups, and how experiences of kindness might relate to health, well-being, and other social and psychological experiences.
The questionnaire was open to participants from 31 August 2021 until 4 October 2021. The survey took about 30 minutes to complete, and all responses are completely anonymous - we did not collect any identifiable information such as your name, address, or IP address.
This study is helping us learn more about how kindness is viewed within society at large and fills some of the gaps in the research, exploring issues such as:
What are the most common kind acts people carry out?
Where do people most often experience kindness?  
What are the barriers to behaving more kindly? 
How is kindness valued in the workplace? 
Is kindness viewed as a weakness?  
What prevents people from being kinder? 
How does kindness relate to factors such as well-being, mental health, geographical location, gender and personality?
How is kindness connected with compassion and empathy?
How does kindness relate to our value systems?
The results are now being analysed and will be announced on BBC Radio 4 in March 2022, in a series called The Anatomy of Kindness. The findings will also inform subsequent research papers, which will be submitted for publication in scientific journals by our research team.
The project is led by Professor Robin Banerjee, Head of the School of Psychology at University of Sussex, working in partnership with the award-winning broadcaster and writer, Claudia Hammond, who is Visiting Professor for the Public Understanding of Psychology at University of Sussex.
The questionnaire development has been facilitated by a team of early-career researchers: Dan Cullen, Lucie Crowter, Jenny Gu, and Marusa Levstek. The questionnaire data processing has been coordinated by Danielle Evans.
Expert input on particular theories, concepts, methods, and ideas has been provided by members of the Sussex Kindness Research network, including:
Sussex psychologists: Gillian Sandstrom (director of the Sussex Centre for Research on Kindness), Kate Cavanagh, Clara Strauss, Rona Hart, Daniel Campbell-Meiklejohn
Sussex colleagues in social work, migration and development, business and leadership: Michelle Lefevre, Anne-Meike Fechter, Zahira Jaser
External colleagues: Michael Banissy (Goldsmiths, University of London), Jo Cutler and Pat Lockwood (University of Birmingham), Masaki Yuki (Hokkaido University)
Please look out for discussion of the results on BBC Radio 4 (The Anatomy of Kindness) and BBC World Service starting in March 2022!