Broadcast: News items
Digital Discovery Week (8-12 November)
By: Ciaran Clark
Last updated: Tuesday, 9 November 2021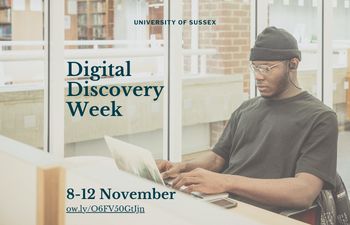 Digital Discovery Week takes place from 8–12 November this year. We have a jam-packed programme of online and in person workshops and seminars celebrating a diverse range of digital innovation and resources at Sussex and beyond.
On Tuesday 9 November, Ben Jackson, our Digital Humanities Research Fellow, will be giving a presentation 'Reconstructing the Benjamin Franklin Common Press online during the pandemic'. Ben will discuss replacing in person lab practicals with an online 3D CAD printing session delivered by University of California Santa Barbara called "The History and Practice of Printing". These sessions introduced students to the potential and limitations of 3D graphics and simulation as a method of studying the historic Common Press.
In a world where international collaborations and multidisciplinary partnerships are standard, and scientific experiments reach collaborations of thousands of people, the use of Open Access technologies is a must to keep running and growing. Join Dr Kate Shaw and Arturo Sanchez (CNRS/LAPP, CERN) on Wednesday 10 November, as they explore how developments in Open Sciences have been growing at CERN, the largest particle physics laboratory in the world, and look at examples from the ATLAS experiment and how it brings its data and tools to students and the public for education and engagement.
We'll be stepping out onto campus for our next session on Wednesday 10 November, with Paolo Oprandi's 'Walk on the wild side: identification apps in action'. Using smartphone apps you'll identify buildings, music, insects, texts, plants, and birdsong. The session will include a short introduction and demonstration to at least three identification apps, and a group game to identify as much as we can using these apps on campus and in groups. Please bring your smartphone or mobile device.
On Thursday 11 November, Helen Webb, our Research Data Management Librarian will be delivering a workshop 'Using Conifer to capture websites'. This must-see session will introduce you to Conifer, a service that will let you create an interactive copy of an existing website and give you time to try it out. This free to use tool makes it straightforward to capture a website – no command line knowledge or coding needed.
This session will be of interest to anyone analysing webpages that change over time, or those creating their own website which they want to capture and preserve.
Spaces are limited so sign up now.
Later in the day, Irene Fubara-Manuel will share their research-led practice project, Dreams of Disguise. They will explain how they bridge theory and digital practice using video games and animation to address larger issues around race, migration, and technology.
On Friday 12 November is Nick Heavey, our Academic Services Supervisor, with What Memes Are Made Of - Using open source visual editors to create memes (90 minute session). Do you want to become a meme weaver? This practical workshop will show you how use open source visual editors and find freely available images to create your own memes. No previous meme making experience required; so memes can come true. If you're interested in creating content for your social channels or webpages
And finally, on Friday 12, the workshop researchers have been waiting for, 'Elements Research Profile workshop', delivered by Bethany Logan, our Academic Services Librarian, Research and Scholarship. This workshop will demonstrate the university's central research management system, Elements. We'll explore the benefits of building your digital profile to showcase your research and teaching activities.
Again, spaces are limited so sign up now.