Team Sussex raises nearly £20,000 for mental health research
Posted on behalf of: Sean Armstrong
Last updated: Friday, 1 October 2021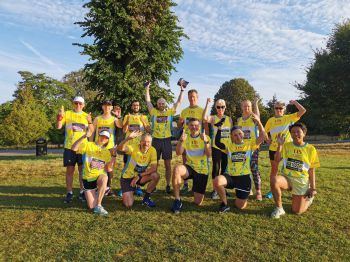 More than 30 runners braved the heat on Sunday 12 September to take part in the BM10K and Marathon events. In the process they managed to raise over £19,000 for mental health research at Sussex.
The money will be put into a pool that researchers can bid on – ensuring that areas of mental health research that have traditionally been underfunded will now receive seed money.
Marina Pedreira-Vilarino, Director of Development & Alumni Relations, said: "We'd like to offer huge congratulations and thanks to everyone who took part in these tough events.
"Sussex is a world-leader in mental health research, both nationally and internationally. The tremendous fundraising effort of all the participants will support our important work in this field – especially at a time when the world is grappling with the impact of the pandemic.
"If you've been inspired by their example, please sign up to next year's events now. You can be sure you're supporting another great cause."
Next year's events will be held on 10 April 2022 and Team Sussex will be raising money for sustainability projects at the University.
We aim to be one of the most sustainable universities in the world, showing global leadership in all forms of environmental, social and economic sustainability. To achieve this, we will need to go much further and faster than we ever have before – and out staff, students and alumni have a big part to play.
We currently limited have places available for the 2022 Marathon, BM10K (10km running event) and BM Ride (50km bike ride).
Whether you are a walker wanting to complete the 10km course; a novice runner or cyclist, looking to do your first event; or a seasoned athlete, you will find all the help you need in our support package:
a training programme tailored to your level
extra training advice and support from Sussex Sport
a fundraising guide to help you meet your target
Team Sussex supporters cheering you on during the event
a free massage after your event
access to our tent in Charity Village, where you can meet your family and friends.
Don't think you're fit enough? Our Sustainability Manager will be organising group couch-to-5k runs on campus through the Autumn for people who want to build up their fitness to take part in the 10K.
Further information: https://alumni.sussex.ac.uk/BM-register