Broadcast: News items
Building partnership and collaboration with community archives and collections
By: Ciaran Clark
Last updated: Monday, 2 August 2021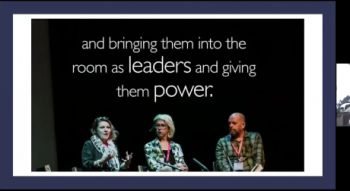 This year's DCDC (Discovering Collections, Discovering Communities) Conference explored how cultural heritage organisations can foster innovation and collaboration in their institutions and communities.
As part of the RLUK (Research Libraries UK) Digital Scholarship Network, we organised a roundtable session at the DCDC conference alongside Eleanora Gandolfi, Head of Digital Scholarship at the University of Southampton. Our aim was to offer a space for museums, libraries, archives, and cultural and creative industry practitioners to discuss open archives and collection creation in partnership with communities. The panellists presented their experience (including challenges, perceived barriers, best practices and opportunities) in creating, maintaining or co-designing open archives.
Our speakers included Laurence Hill, a Visiting Research Fellow at the Sussex Humanities Lab and an independent curator and creative producer, working primarily with digital artists. Laurence's curatorial practice is focused on working with LGBTQIA+, BAME, neuro-diverse and disabled digital artists to explore representation and embodiment in digital spaces and the ways in which artists can and should be helping to create those spaces.
Laurence shared his experiences as Director of Brighton's 2018 Digital Festival where he commissioned 'VoiceOver' to collaborate with Brighton's trans community. Led by artist Emma Frankland, the project invited members of the trans community to record their thoughts and feelings using VoiceOver radio boxes. Participants could choose whether they wanted their recordings to be made available to a general audience or just to the trans community; an issue that generated much discussion over the ownership of archives and the power structure and decision-making within projects.
The second speaker in our roundtable line-up should have been Dr Sharon Webb but sadly, she was unable to make it on the day. Sharon is a Lecturer in Digital Humanities at the University of Sussex and a Director of the Sussex Humanities Lab. Her plan had been to discuss the following:
"As communities take charge of their heritage, and create their own digital archives, the long-term viability and sustainability of these increasingly important collections is uncertain. LGBTQ+ communities, feminist networks, black communities, among other marginalised groups, use digital technology to ensure representation and to protect against future erasure from the historical record. However, these representations are at risk of loss because of the fragility of digital archives and their associated infrastructures, both the human infrastructures (i.e. volunteers) and the digital infrastructures."
Dr Sara Perry, and Cecilia Levratto joined us from the Museum of London Archaeology (MOLA). Cecilia is an archivist with a background in medieval archaeology, history and museums. Sara is Director of Research and Engagement at MOLA and has led on research projects, including the EMOTIVE consortium that focusses on the research, design, development and evaluation methods and tools that can support the cultural and creative industries in creating narratives.
Sara and Cecelia discussed the need for, and challenges to, practising more 'radical' or critical forms of archaeological archiving. They argued for archival re-description to help address systemic bias, inequality and racial injustice in our catalogues and repositories while recognising that the change needs to come from the point at which the data is conceived. They are doing more to involve communities in the archaeological process and to provide a space in the present for those communities whose voices have been silenced by historical processes.
Our final panellist was Dr Katie Eagleton, Director of Libraries and Museums, St Andrews University and a member of 'Towards a National Collection' aiming to open digital access to cultural heritage collections.
Katie shared with us the work being carried out by the University Museums in Scotland network in response to the Covid pandemic, promoting collaboration and mutual support. Their Capturing Lives project brought together young people in Scotland, focussing on those with Widening Participation backgrounds, to explore and document life in their communities through different mediums of art. The project combined online guided sessions exploring university museums' collections and archives, self-guided creative activity and talks from professional organisations. Mentoring was provided by current students of the participating universities.
The Q&A that followed the panel presentations was as lively and participative as we'd hoped it would be, despite the shortcomings of it being a virtual event. Attendees joined the roundtable to ask their questions 'in person'. The discussion was wide-ranging, delving into how we make our collections active, relevant and useful to the communities we serve and/or represent and questioning where the power lies and who has the 'right' to instigate and lead community projects. We also talked about the importance of reciprocity and the question of what is the value of the project and potential archive or collection to the participant?
The full recording is available here.