PhD finalists enjoy 'blended picnic' in Summer Graduation week
By: Heather Stanley
Last updated: Friday, 23 July 2021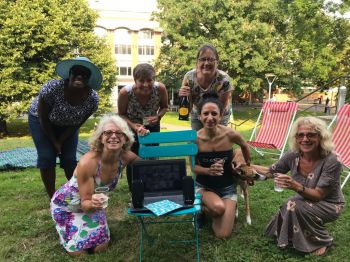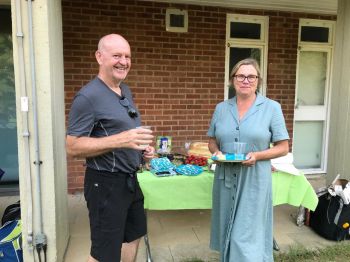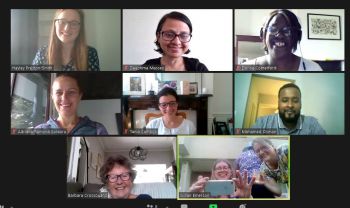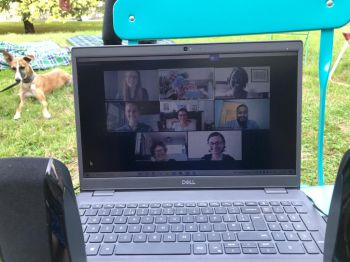 The School of Education and Social Work's PhD community came together during Summer Graduation week to celebrate the end of taught sessions and supervisions for the year, and the fact that 20 researchers completed their doctoral studies in 2021, with a picnic outside Essex House.
With the country tentatively coming out of lockdown, half of the attendees on Wednesday 21 July were keen to attend in person – with tutors and the Head of School – with the rest joining remotely.
The School of Education and Social Work has a key focus on student support for its doctoral researchers, including the creation of peer-to-peer support groups.
One recent completer, Social Work & Social Care PhD researcher, May Nasrawy, is exploring young people's perspectives in Palestine and runs a study group for other researchers on her course. May sent a message of thanks after the event to one of the PhD course convenors:
"Thank you so much for such a wonderful blended evening, I don't think I was ever as excited to see people and just sit outside ESW as I was last night!! It was such a great event, and made me even more proud to be a part of this kind, supportive and amazing community.
"Thank you Julia, Gillian R, Charles, Gillian HT, Barbra, Deeptima, Mike, Carol, Ana, Michele, Heather and all supervisors for celebrating our achievements, and for your warm wishes and card etc.
"Also, thank you Hayley and Gill (i.e. other students) and all the others who helped out yesterday - we're not only a cohort, but a big family. That's how I felt last night :)
"Best wishes to you all, and hope we can meet again face to face soon."
Education PhD researcher, Gill Emerson, was also appreciative of the opportunity to meet face-to-face on the Sussex campus:
"It was such a wonderful feeling to be meeting face to face with people, and being able to talk in a relaxed fashion. I really enjoyed making connection with the online community. Thank you all for helping to make it happen."