Update for students from Pro Vice-Chancellor Kelly Coate
By: Harvey Atkinson
Last updated: Thursday, 10 June 2021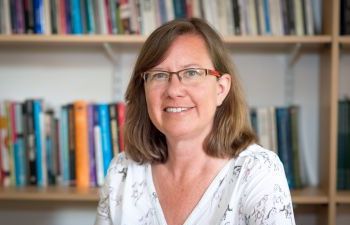 On Thursday 10 June, Pro Vice-Chancellor for Education and Students Kelly Coate emailed all taught students. You can read the message in full below.
Dear all students,

This will be my last weekly message to you for this academic year, though we will be in touch during the summer when there is relevant information to share with you.

Please read this message for updates on:
Teaching next year
Your education – no-detriment policy, results date and A3 assessments
Sussex Festival of Ideas
Support and resources
Santander Black Inclusion Programme
Spirit of Sussex Award – log your points over the summer
Teaching next year

What will teaching be like in September 2021?

With the successful roll out of the UK vaccination programmes, the University is optimistic that from September 2021 the main form of teaching will be in-person on campus. Of course the health and safety of our students is our priority, so although we will aim for mainly in-person teaching, changes may be needed in response to the global pandemic.

Our students have fed back that they've enjoyed elements of online learning over the past year, so where online learning is beneficial we will look to provide this too, however we are planning for the vast majority of teaching, learning and research to be in-person and on campus. We know that students may sometimes be unable to attend in-person (e.g. due to travel restrictions), and we're putting alternatives in place so that if you're in this position, you're still able to meet your learning outcomes, while you prepare to join us on campus once it's safe for you to do so.

We recognise that while the COVID-19 pandemic continues, there is the potential for the situation to change and develop. We're monitoring this closely and will keep you up to date on any adjustments we need to make to teaching delivery. Please look at the Student Hub for more information.

Your education – no detriment policy, results date and A3 assessments

After very careful consideration it was been agreed that the no detriment policy put in place for Semester One this academic year will also be applied to your Semester Two modules. These measures are designed to ensure that you are not academically disadvantaged due to the impact of the Covid-19 pandemic.

This means a continuation of:
the expanded range of Exceptional Circumstances students can apply for if necessary, with self-certification, and
increased flexibility for exam boards to review module grades where they are out of line with previous cohorts.
As part of our adaptations this year we have also put in place additional support, including a more flexible approach to exam assessments and continuing to hold on-line exams within at least 24-hour windows (with some offering dedicated time for preparing your exam or flexibility to submit them within the 24-hour window). If you were studying with us last academic year, your Spring 2019/20 modules during the Covid-19 pandemic will also have had the 2019/20 no-detriment policy applied to them where eligible.

If you would like more information or have questions about the no-detriment policy, you can find further details on the Your Education page in the Coronavirus section of the Student Hub.

Assessment boards will undertake the careful work of reviewing modules in line with the no-detriment policy. To ensure sufficient time is given to full and fair consideration of your assessments by the Boards, the formal publication date of all results has been moved by one week. Results will now be released via Sussex Direct as follows:

Undergraduate finalists: Wednesday 23 June at 12.00
Undergraduate progression: Monday 12 July between 08.00 and 12.00 (depending on your stage of study)
Postgraduate: Wednesday 21 July at 14.00

We also want to make sure that students have enough time to prepare between sits or resits in the A3 assessment period, so we will be extending the duration of the A3 assessment period by one week. The A3 period will therefore run from 9 August to 28 August. Further information will follow on this in the coming weeks.

Sussex Festival of Ideas

The Sussex Festival of Ideas continues until Saturday. The festival celebrates the work of the School of Media, Arts and Humanities with a dynamic and engaging programme of talks, events and activities. In its inaugural year, the festival celebrates a host of contemporary ideas around documentary and film, music and creative practice, poetry and language, as well as the vital role of our local cultural institutions. There is no need to register, you can watch all of the events live on the Sussex Festival of Ideas website.

Support and resources

On the Student Hub you can find all sorts of information to help you navigate university life. This includes the Accommodation pages, International students section and links to our wellbeing and support services, if you need advice on an issue or someone to talk to. The Careers and Employability team continues to be available to you over the summer as well.

Santander Black Inclusion Programme

I'm pleased to share that some of our students recently enjoyed completing an online finance course as part of Santander's Black Inclusion programme. You can read about their experiences on the Student Hub.

Spirit of Sussex Award – log your points over the summer

Finally, co-created by students and staff, the Spirit of Sussex Award celebrates your extracurricular engagement. Find out how to get involved and log points over the summer in this Flint article by Kadmon, a Spirit of Sussex Award Student Connector.

With best wishes,

Kelly Coate

Pro Vice-Chancellor for Education and Students