Soapbox Science teams up with Sussex Widening Participation
By: Jessica Gowers
Last updated: Tuesday, 8 June 2021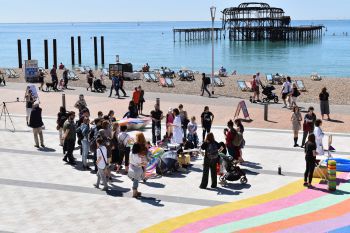 Soapbox Science Brighton is teaming up with the University of Sussex Widening Participation team to provide an online alternative to the public engagement event, usually held by the seafront.
Instead of inspiring beachgoers, this year's Soapbox Science speakers will be engaging with school pupils as part of the University of Sussex Access Programme.
A team of five women scientists, with expertise from drug delivery to dark matter, will provide short talks for the Year 12/13 students, which will then be available online after the WP academic taster session on 14 June 2021.
Chris Mason, Widening Participation Events Manager, said: "Widening Participation are delighted to collaborate with Soapbox Science to bring the experiences of passionate STEM professionals to an audience of Year 12 and Year 13s on the Sussex Access Programme.
"As a team we have been looking for new and engaging ways to deliver our outreach activity and we hope that by offering insight into research it may inspire the next generation of scientists."
The University of Sussex Access Programme is designed to help students manage their transition to higher education. Any student in Year 12 or above who is considering university can sign up to the Sussex Access Programme. Once registration is completed, they can register for this event and many others. More details are available on the website.
This year's Soapbox Science talks are separated in to two sessions:
Session 1: Saving lives with science
Louise Davidson: 'Working together to save lives' (Psychology)
Hadia Almahli: 'A research trip in natural products synthesis' (Chemistry)
Dannielle Cox-Pridmore: 'Flexible Bioelectronics: The Future of Drug Testing' (Engineering)
Session 2: Through the lens
Charanjit Kaur: 'How to Search for Needles (BSM Signals) in a Haystack (LHC Data)? A Novel Analysis Strategy Using Machine Learning' (Physics)
Noora Nevala: 'The hidden world behind zebrafish UV vision' (Neuroscience)
Following the talks, the speakers will share details of their career journeys, offering insight into a future in research. Students will then have an opportunity to ask questions via a live Q&A.
Soapbox Science host events across the UK and the world that celebrate women in STEMM (Science, Technology, Engineering, Maths, Medicine), breaking down barriers and challenging stereotypes about who a STEMM researcher is.
The Brighton event is organised by a group of staff at the University of Sussex, including Dr Beth Nicholls. She said: "Soapbox Science is a brilliant initiative for raising the profile of women in science. While we were disappointed we could not hold the in-person public event, we are really delighted to offer this online alternative that will allow students in particular to learn about a variety of exciting research careers!"
Soapbox Science Brighton has previously been held on Brighton seafront; to see what it usually looks like in action, check out the 2019, 2018 and 2017 videos.