Supercontinuum laser contest won by Sussex faculty member.
Posted on behalf of: School of Engineering and Informatics
Last updated: Monday, 12 April 2021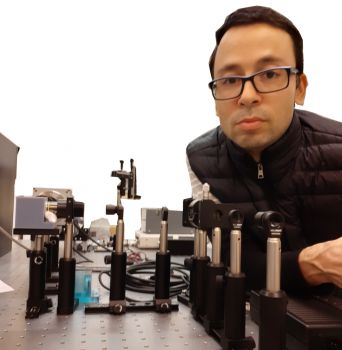 The WHITE Award is an open international contest in the fields of scientific research, industrial, or medical, application which can benefit from the use of white light laser technology sponsored by FYLA.
Dr. Rodrigo Aviles-Espinosa, a lecturer in Opto-electronics and Bio-engineering at the University of Sussex's School of Engineering and Informatics is the winner of the first prize.
Dr Rodrigo Aviles says, "The use of supercontinuum laser technology will contribute to advance the technology in the areas of drug delivery devices, robotic systems for surgical applications and microscopy imaging devices as part of my research".
FYLA's Chief Executive officer Ismael Almazan says, "the contest was very competitive with more than twenty finalists around Europe, but Rodrigo's idea on using FYLA's laser technology for applications in surgical robotics was the winning proposal. Congratulations Rodrigo!
We are excited to start this collaboration with Rodrigo and the University of Sussex".
FYLA is a Spanish company that creates and commercializes laser technology by joining Singularity, Quality and Profitability for clients and Stakeholders, pursuing to lead the Industry transformation towards photonics as a lever for the development of newsectors and new applications benefiting fromthe use of white light laser technology developed by FYLA (www.fyla.com).