Research opens doors to development of new class of drug to treat cancer
By: Jessica Gowers
Last updated: Friday, 5 March 2021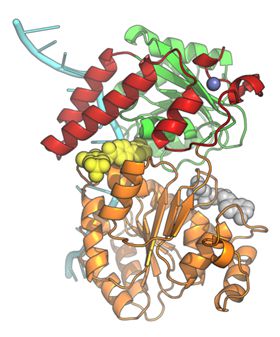 Sussex research has enabled a new drug target, which could lead to the development of novel treatments for a variety of human diseases, in particular cancer.
The study, led by researchers based in the School of Life Sciences, has identified a small molecular inhibitor, or potential drug, that binds to the protein BLM. BLM belongs to a family of enzymes called 'RecQ helicases' that are key to the health of human cells, participating in both cell division and DNA repair processes.
Dr Frances Pearl, a Bioinformatician based in the School of Life Sciences, and Dr Antony Oliver, a Senior Research Fellow in the Genome Damage and Stability Centre, were part of the team leading the research.
Dr Oliver said "RecQ helicases have been proposed as a new and exciting therapeutic target for the treatment of human diseases including cancer. Interestingly, our 'drug' binds to a very unexpected pocket on the enzyme we studied. This then provides a novel route to the development of compounds that bind in a similar way to the other RecQ helicases".
'Synthetic lethality' analyses have previously implicated RecQ helicases as promising drug targets across a wide a range of cancer types.
"Synthetic lethality represents a framework in which to develop drugs that kill only cancer/tumour cells, but do not affect healthy cells. These types of drugs tend to be much more well tolerated than standard chemotherapies" added Dr Pearl.
'Uncovering an allosteric mode of action for a selective inhibitor of human Bloom syndrome protein' is published in eLife.